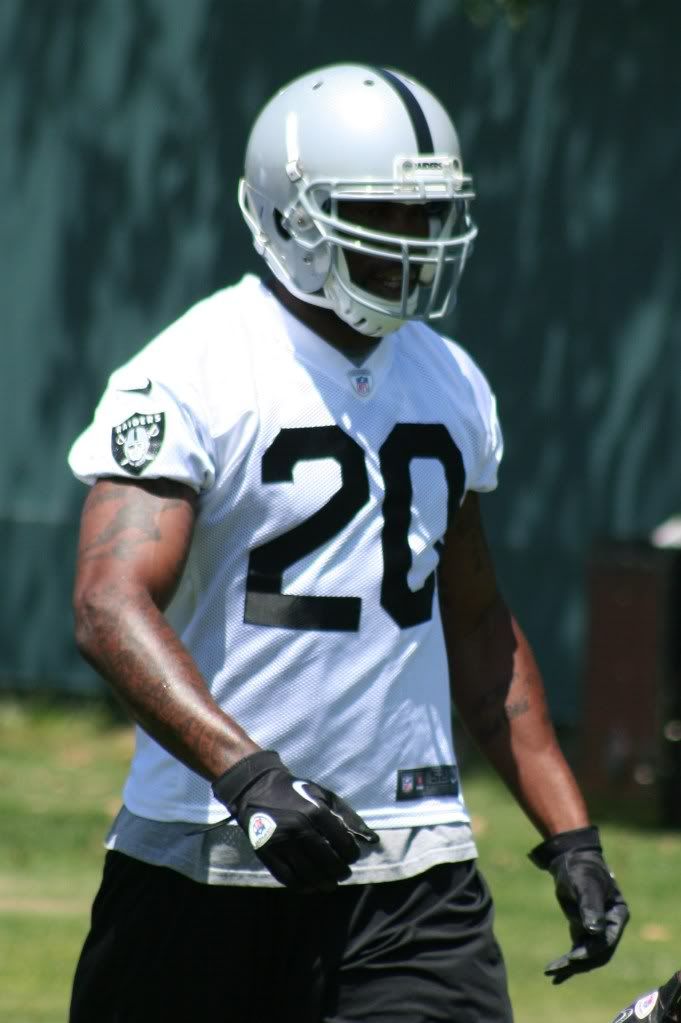 Once upon a time the Oakland Raiders drafted Darren Mcfadden (Arkansas) fourth overall in the 2008 NFL Draft. He was to be paired with the flappy-armed, candy-assed jug of a mammoth in Jamarcus Russell.
That didn't work out. Mainly because Russell was a Wilson — and was cast away.
McFadden has had multiple foot injuries since becoming a Raider, yet he's also managed to make a significant impression. He came to life under Raiders former head coach Hue Jackson – and was even a MVP candidate just twelve short months ago.
Now fantasy owners panic in fright, as Darren Mcfadden has gained half the yards he had last year at this point.
Is it a coincidence McFadden was last injured by Kansas City?
Will he return to form this week, or continue to play sh!##y?
OC Greg Knapp is the biggest change this year
And like a magician, he's made Run DMC disappear
Out with the power, in with the zone
McFadden was on a high so why spill the bong?
Got a top ten talent quarterback in Carson Palmer
If they stay with this scheme, DMac could be a goner.
OK. Enough with the poor rhyming. What I'm getting at is this – will this year be the last we see of Darren Mcfadden?
'Run DMC' this year looks more like pony than the hungry workhorse we saw galloping down-field running over people at will the past couple years.
Some of that is his fault (he could try to be a little more patient hitting the hole) and some of that is Greg Knapp's fault.
The Raiders ninth-best offense of last year seems like a dream at this point. Somebody needs to shake a dream catcher or SOMETHING.
The offensive line looked like it was headed in a great direction, maybe even a top-ten caliber line. But there's been regression and it could kill this year's chance of improvement if somebody doesn't do something.
Most people around the league recognize Darren Mcfadden as a top talent not just as a running back, but overall as a player. And that player's talents have not been executed well. Even hobo's on bath salts would dodge Mcfadden right now. He stinks THAT bad. That's piss-poor grooming right there on the Raiders part.
Unless there's a dramatic change in the running game, McFadden's gone after the season.
If D.A. sticks with Greg Knapp going forward – there's rookie backs that will come cheap. Raiders could trade Mcfadden and draft a rookie to come in here and do at very least what Mcfadden is doing now. And the prospect of picking up a draft pick or two in the process has to look appealing to Reggie Mckenzie.
One thing to keep in mind is that next season will be the last year of Mcfadden's rookie contract – so there's kind of that sparkling-looking, prime-time feeling that he COULD ball– out like never before in a contract year. Trick or treat? That's something to think about.
Will McFadden turn it around under Greg Knapp this year? Or will he be traded after this season and replaced cheap? Is the 2012 Raiders season going to end up toting a good ball or not?
So what say you, Nation?
A) Mcfadden will get it going, Gangnam Style
B) Mcfadden will not get it going, in any style
C) Mcfadden should just be traded, man
D) Greg Knapp should be zoned out and cast away – without any kind of Wilson to keep him company
E) I miss that bushwhacker that left for Chicago
This content of this article comes from the twisted mind of AJ DeMello and is for entertainment and comedy purposes only. For more of his jokes and one liners follow A.J. @humorousfiend