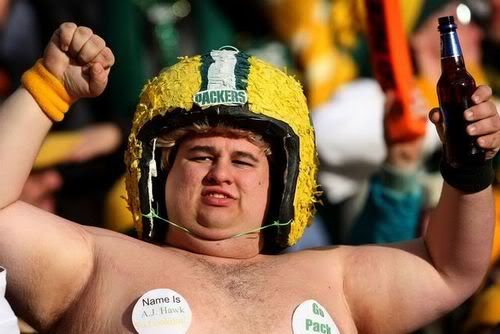 It's time for this week's Thoughts From the OTHER Side in which we pick the brain of a blogger from the Raiders' upcoming opponent. This week the Raiders head into Lambeau Field to face the Packers, so I tracked down Monty McMahon from Total Packers (I can neither confirm nor deny if this picture is of him). He brought his unique brand of snark that has aged like vintage limburger. So let's get right to it.

1. Do you think the Packers really don't care about 16-0, or are they just saying what they are supposed to say? After all, the last team to go undefeated was beaten by "the other Manning." You know, the one who licks the window of the Giants' team bus when he's not putting up 35 points on the Packers?

"No one cared earlier in the season, but everyone does now — the coaches, the players, the fans and the dudes who clean the bathrooms at Lambeau on Monday. It's not that undefeated is a necessity. It isn't. If we happen to lose to the Silver and Black on Sunday at home… hahahahahaha… sorry. Where was I? Oh, yeah, the Vince Lombardi Trophy is the ultimate goal. I can guarantee that's all anyone in the organization, from the president down to the guy hanging onto a practice squad spot by his fingernails is focused on. If undefeated comes, that's great. It's certainly on everyone's mind and the last four games are the toughest. That's really a moot point, though.

"Frankly, if this season doesn't end with Aaron Rodgers holding the trophy, it's one fat fucking failure, regardless of how many games the Packers win.

"And, if you want me to tell you what the chink in the armor is, you alluded to it — the Packers defense is 31st in the league. Fortunately, they're also first in turnovers. I guess you'd call that opportunistic."

2. Speaking of putting up big numbers, what is up with that Green Bay defense? Sorry, I shouldn't put the words "Green Bay" and "defense" next to each other like that. So what is up with those dudes for the Packers who line up across from the opposing team's offense?

"Yeah, you know what? I'll just come out and say it. The Raiders have a superior defense when compared to the Packers. Fortunately for us, football isn't a game where two defenses go on the field and try to kill each other. If that were the case, the Raiders would win. Wait… scratch that. The fucking cons that they let out on work release who somehow sneak into the Black Hole each week would beat both of their asses. As a wise man once told me — don't bring a knife to a gun fight.

"That being said, note the turnover stat above. I'd say a safe over/under on how many picks Carson Palmer will throw this week is two. And frankly, I'd bet the over.

"Oh, and have you seen Aaron Rodgers play? He's no Alex Smith or Jason Campbell, but he's alright."



3. Is California Golden Bear product, Aaron Rodgers, carrying this team the way the winless Colts were carried by Peyton Manning, or are there actually other players on the offense worth mentioning?

"Is this where I mention them? Greg Jennings, Jordy Nelson, Jermichael Finley, James Starks. There are easily two, maybe three Pro Bowlers in that group. I'm not trying to brag because, hell, I didn't build the fucking team, but James Jones and Donald Driver are essentially our third and fourth receivers. Those guys could start for, I dunno, maybe 20 other teams in the league. The Packers have the best receiving corp in the NFL.

"In comparison, the Raiders have two guys who might make our practice squad and… hahahahaha! … sorry… I was just remembering when you guys drafted Darrius Heyward-Bey in the first round…. hahahahahaha! Fuck! That was a nice pick! He's really coming into his own!

"Seriously though, Moore has potential. Ford is a game-changer if he didn't hurt his vagina every time he stepped foot on the Coliseum turf. On the Packers, Moore would maybe be the fourth receiver — and I'm being generous with that assumption. Ford wouldn't get on the field other than as a returner. That's no joke and I'm leaving my bias out of it.

"The Packers have talent on offense. It's not all Rodgers. He just throws the most beautiful ball I've ever seen. It's like Ray Allen's jump shot."



4. Other teams' fans like to show their jealousy of Raider tradition through some lame attempt at making fun of their fans' costumes and the famous Black Hole. Does Green Bay have a… cheese hole or something?

"No. We don't need a gimmick. If any of you fools make the trip to Lambeau Field, you'll understand. If you've been there, you'll understand this statement — going to Lambeau is the football fan's pilgrimage to Mecca.

"If you haven't been there, go. You won't be disappointed.

"On a side note, I once polled the people who sit in the Black Hole. Nine out of 10 don't actually know what a black hole is. Most of them just said, 'Da Raiders, you fucking cunt! Sit down before I fuckin' stab you!'

"So, yeah."



5. Who do you see winning this game and why?

"Normally, when I do this I like to say something asinine like 563-0 because I know the Packers are going to win. It's that time of the season, though. Everyone is beat up. The playoff pressure is on. And, hell, it's cold outside!

"So, i won't guarantee this game. The Raiders are a decent outfit this season and it's about goddam time! They'd be better — and my damn fantasy team may have made the playoffs — if that cunt McFadden would take off his goddam skirt and get on the field. "Oh, my vagina hurts! I don't think I can make it this week! Maybe if you rub my vagina… no, a little to the right… oh! oh! oh!… wait… higher… that's it…. yes! yes! yes!…

"Anyway, the Raiders will probably score some points on our 31st-ranked defense. Our shit defense will probably also come up with at least two turnovers, though, because that's what they do. Frankly, if you guys turn the ball over once, it's game over.

"Our offense is a goddam buzzsaw. Even if you had that prick cornerback who signed with Philly and he was able to shut down Greg Jennings, you don't have anyone to cover Jermichael Finley and your No. 2, 3 and 4 cornerbacks aren't on the same level as our No. 2, 3 and 4 receivers — those being Jordy Nelson, Donald Driver and James Jones, respectively.

"That being said, the game will be close. The Packers are under the microscope. The Raiders defense is superior. If only you had McFadden…

"The way to beat the Packers is to control the clock and keep Rodgers off the field. Michael Bush is solid, but he's no DFad.

"Packers 32, Raiders 27"



To see my answers to his questions, Click Here.

Follow me on Twitter @LeviDamien or befriend me on facebook.