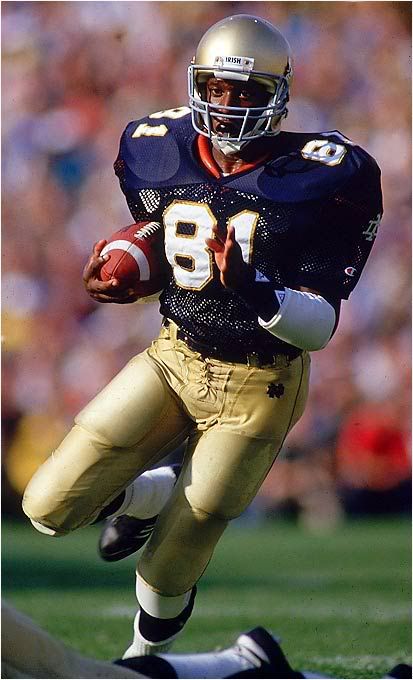 Raider great and former Notre Dame star receiver Tim Brown will be inducted into the College Football Hall of Fame this Sunday. He heads up a class of 24 players who will be enshrined at Brown's alma mater in South Bend, Ind.
Tim Brown won the Heisman Trophy in 1987 after a senior season in which he had 1446 all-purpose yards and scored eight touchdowns. He finished his career at Notre Dame with 137 receptions, a school record 5,024 all-purpose yards, and 22 touchdowns.  He was a first team All-American twice as well.
That Heisman winning season led to him being drafted sixth overall in the first round of the 1988 draft by the Los Angeles Raiders. He went on to have a Hall of Fame worthy NFL career with the LA/Oakland Raiders, setting franchise records for receptions, receiving yards, and punt return yards.. That career culminated in helping lead the Raiders to the best offense in the NFL and a berth in the Super Bowl after the 2001 season.
He would spend all but his final NFL season with the Raiders and in 2002 became their all-time leader in games played (224).
Now he has but one more Hall of Fame to be enshrined in– the Pro Football Hall of Fame. This year was his first year of eligibility so that enshrinement should happen soon enough.
But for now he can bask in the glory of his stellar College career.
Those being honored found out in April 2009 they were going into the hall and were inducted into it during a ceremony in New York last December. The event in South Bend was the final step in the process.