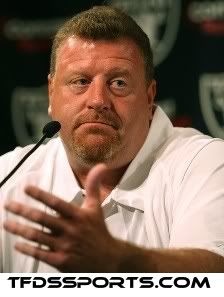 Not much that Cable can say after this loss
(TFDSSports.com stock photo)
Coach Tom Cable was not the happiest he's been since officially becoming the head coach of the Oakland Raiders. After his second meeting with the Saints, and his second beating by them, his demeanor was subdued when giving the media the skinny after the Raiders' 45-7 loss on Saturday.
Cable's resolve showed through during the presser, as he stated on more than one occassion that he's going to be moving forward in the belief that this Raiders team is moving in the right direction.
While anyone who watched the game on Saturday may have trouble believing that the Raiders are going to be any different this season from the last few, it is still just the preseason.
The following is the transcript from the postgame presser:
CABLE: OK, first things first. Obviously, I'm embarrassed by that effort. It was not very good in terms of the third preseason game. It just seemed like early in the game we could not make a play on either side of the ball. We couldn't get off the field on defense. We didn't tackle very well. And offensively, the sack fumble after two first-down throws kind of set us back.
The biggest issue I see is really … we looked like a team that didn't have a lot of zip in us. We were not able to make any plays early in the football game. And they're too efficient offensively, especially with their first group, to be like that.
So, not good. Offensively we could never find any rhythm in there. And some issues of protection we would like in continuing to keep working on the passing game. And then ball security for us. We have to take care of the football better, obviously.
Q: Injuries?
A: Justin Miller, turf toe. Michael Huff, strained quad. Rashad Baker, stinger. And Nnamdi Asomugha has a left wrist chip fracture, in the wrist.
Q: What's the estimate for how much time Asomugha will miss?
A: Actually, it didn't sound like he would miss much of anything. It's not that big a deal given where it's at and all of that.
Q: Did Asomugha come back in during the second half?
A: Yes, he did.
Q: With it being the third preseason game, does this loss become a huge warning sign?  Is it more disappointing because it's the third game?
A: Like I just told them, don't let that game define us, but certainly going into it you want to put an effort out there that kind of sets you up for the rest of the road here. Disappointing. Very disappointing, is the only way to put it. We'll go back to work and see if we can freshen up and get this team where it should be.
Q: What do you mean when you talk about effort?
A: In terms of our performance and our ability, we've got guys there who can make plays that don't make them; we've got guys who can wrap up but don't. We see a safety blitz off the edge, we picked it up a thousand times and we see it too late. Just things like that. We're not very sharp. Not very detailed.
Q: Although receivers dropped some key passes, did you see a better game from Russell today?
A: It was. There were a number of drops. I didn't really see too much of, what you would say, poor decision making. I thought he was pretty much right on.  As we've talked the last couple of weeks, I think he has progressed the way you hope he would. But I think as a football team, we're just so … lack of attention to detail, in that particular game. And you want to have a little bit more of that in the third preseason game.
Q: The first fumble looked like Russell is still struggling with his internal clock, is that something that you continue to see him do?
A: You know, that one he probably could have put in the back's hands a little sooner. He held it, trying to find Zach, I believe. He should have put the ball in the back's hands and went on to the next play.
Q: How does a loss like this happen?
A: I think it's all of us. I did a bad job. We didn't coach it well, we didn't play it well. We're all in it together. To put your finger on one thing in something like that would probably be pretty ludicrous after that. I just felt like as a team we're where we need to be, it's just making the plays we should make. Early in the game especially because you have to get started early in the National Football League. I just felt like we didn't do that. Not enough zip to us, not enough detail.
Q: Why have you struggled with running the ball with your first team?  Is that something you can turn on when it counts?
A: We work on it every day. I stated numerous times we really need to get this passing game to a level that will give us some balance where we can score points. We just continue to want to work at that. I believe it's the right thing to do. We don't not ever work at running the ball, not running the ball. It's just trying to upgrade us in the passing game.
Q: How does this affect your attitude going into cuts?  Are you ready to make changes earlier than expected?
A: You have to look at it. But from looking at it on the sidelines, we've got guys where they need to be this time it's just a matter of wrapping up and putting a face on them. Really it was just a lack of real zip for us. Just not very good.
Q: Is it time to rethink your philosophy or come up with a new plan?
A: No no. We'll stay the course. This is disappointing and this is embarrassing to me. I see where we're headed and I see where we're going to be. I'm not going to let this be a setback. It just really kind of sticks in your mouth like a bad taste. We'll stay the course. I see what we're capable of doing and I'm not going to give in on it.
Q: Terdell Sands hasn't played the last two games.  Is he hurt?
A: It was just the rotation and those young guys are coming on, particularly Joseph and Bryant. They're getting it done right now.
Q: You haven't seen much from Michael Bush in game situations this preseason, do you have enough tape to make a decision on him as a starter?
A: Oh sure. He proves it every day in practice.
Q: When you're down by 21, does that set the offense back?
A: You can look at it that way. I just look at it as a team-wide issue. Not much to us today and that's the disappointing part.
Q: With Murphy being a rookie, did you pull him aside after the fumbles to keep him from hanging his head?
A: Yeah I did that. I did that.
Q: Who was at fault on Devery Henderson's touchdown?
A: When he runs right across your face and you're the centerfield player you pick him up.