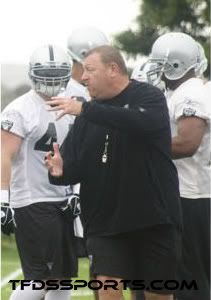 Cable and the Raiders break camp.
(Photo by Patrick A. Patterson)
Tom Cable and the Oakland Raiders will finally be practicing again in…well, Oakland. Training camp has officially been closed, allowing the players and staff to pack their belongings and head home for a good night's rest in their own beds for the first time in 31 days. "Oh, I'm happy to go home," said Pro Bowl corner Nnamdi Asomugha.
The final day of camp was another day where the first team went against the scout team in preparation for the Raiders final home preseason game this Saturday against the Saints. Much of the day was installing formations and plays, while practicing their timing and some techniques that will serve them well throughout the season.
Cable breaks his first camp as an NFL coach and is looking forward to getting the team ready for the start of the season.
Here is the Q&A from after practice:
CABLE: Good camp. Excellent effort by our football team all through camp. That's 32, 33 practices, a lot of work. Now we have to get ourselves freshened up a little bit as we get ready to get into the last preseason game next week and get into the regular season. Just a great effort by our team. I think that's probably the thing that sticks out in my mind more than anything. We had a goal coming up here, and that was to leave here a better team, closer, and I think we've accomplished that.
Injury report for today. Nothing knew. There's Schilens, Barnes, Wade, Fargas, Shaughnessy, Ekejiuba, Morrison and Mitchell. The only that really flared up from yesterday is Norris. He has a real sore calf, Slade Norris with a real sore calf.
Q: How is Mike Mitchell coming along from his hamstring injury?
A: It is getting better, but is has been slow to get there this time, but it is improving.
Q: What is the identity of the team as camp breaks?
A: The biggest thing we had to do, leaving this place, is be more like a team, more like a team that plays the game for each other, they work at practice for each other, they care about each other. Scheme isn't going to matter. We've got good players, like everybody else in the NFL. Scheme is scheme. Everybody's got a good one. It's just a matter of doing it right, for each other with the right purpose. I think we accomplished that.
Q: What sort of things do you need to accomplish from now until your opener against the Chargers?
A: See how detailed we can get, meaning all the little things. I talked a lot about pad level these first two weeks. See if we can eliminate even more penalties. We went from 14 to seven in Game 2. See if we can get that down some. See if we can be sharper in the red zone on offense. See if we can, obviously, get an attitude about stopping he run on defense. So I think the details that lie within that are probably what we're looking for, particularly Saturday and then again next week at Seattle.
Q: The Saints seem to be working on getting better at the run. Is that willingness to run the ball something that will be good for your team?
A: I think so. Everybody has their issue they're trying to fix. Obviously we've been working on the passing game. They're trying to add balance. So it does bode well for us because we need that.
Q: How much time will Garcia see against New Orleans?
A: Mostly the second half.
Q: What about the starters?
A: I have not finished that yet, so it would be a little bit premature right now, but plan on most of them in the first half and possibly start the third quarter, something like that.
Q: Javon Walker looks pretty good out there. Is he getting a little anxious?
A: Oh yes, he's anxious as can be. He's a little rough with some of his assignments, but that's normal. He hasn't had a lot of work, but he's able to clear that. He's had so much experience. He's a really bright guy, and the next time you see him do it, he's fixed the mistake from the time before. We'll expect him to go after it on Saturday.
Q: When looking at your third quarterback, do you pick the one you think you can better win with or the one who can be the better scout team QB?
A: It has to be the best chance for us to win. If he has to go into play, then we need to have the ability to move forward and win games. In terms of simulating, that's just his role naturally during the year. You have to make this decision based on who can go in and win for us.
Q: Do you think the running back competition has been overshadowed by all of the focus on the passing game?
A: No I don't think so. Some of that switched to protection. Obviously, I mentioned this in OTA and it showed up again in camp. Justin Fargas has really raised his level olf play in terms of catching the ball. Yeah, maybe not as many carries but in the other areas we have given them more opportunity that way. It's just balancing that out.
Q: How soon to you pick your starter? Is it important to do it soon?
A: I think so. Every NFL team really has two runners all the time. They are pretty consistent. We're lucky with three. I think we're getting pretty close as to who those two, three guys are.
Q: How has the competition been between the three?
A: They have a good time with it because they are so close. They have great respect for each other. I don't think there's animosity or anything like that. They all want to be the guy but they all push each other and pull for each other in their own way.
Q: Is there anyone that came out of nowhere here at camp?
A: I think there's a couple of guys. Desmond Bryant has showed up a great deal. Brandon Myers, certainly his ball skills, his level of play in the passing game. Those two things probably jump out at me the most, more than anything, to be honest with you.
Q: How would you characterize the camp that Tyvon Branch has had?
A: What he was before the injury, which was a ton of speed, very athletic, and very courageous. He's just going to fly in and just throw his body in there regardless of what it is. Where I think that guys has improved is in his coverage. You need that in this division with the tight end in San Diego creates an issue, particularly if Gonzalez was still in Kansas City. You have to have a strong safety who can cover someone. Tyvon really has developed that part of his game.
Q: Do you try and hide players that you know you want for your practice squad these last two weeks?
A: Right now you just have to stay with your purpose which is to evaluate it and get guys in situations. Really what it will come down to in that situation is hoping they will clear waivers and you will get them back.
Q: Can you compare your rookie receivers?
A: I just think they both get better each day. You see Louis Murphy, he's probably a little more outgoing, his personality seems to show up a little bit more. Darrius is a little bit more quiet, laid back type, business-like guy. The development has been constant. That's the best thing.
Q: What do you think of Nick Miller in camp?
A: Really the same thing. He showed up a little bit in OTAs and he just continues to get open and catch balls and make plays.
Q: Watkins and Holland have been out there making nice plays also, do you like the battle that's going on for that last receiver spot?
A: I do. I do. The last seven or eight decisions that have to be made when we cut this thing down are going to be pretty tough. In the past, at least in my two years here where as a line coach even, you just kind of saw who this team was going to be. There's some real issues about roster choices and who's going to be here and who's not.
Q: Any thoughts on the Napa Police re-opening the Hanson case?
A: I haven't even thought about it.