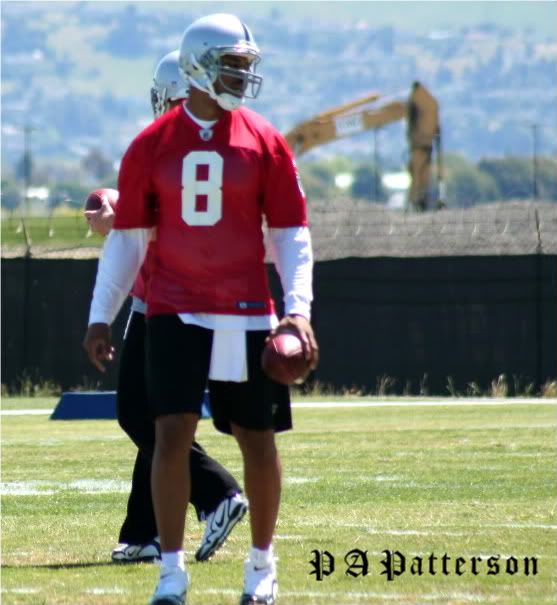 Jason Campbell's progress story of OTAs
The Raiders have held their first Organized Team Activity of the 2010 offseason and the storylines are continuing to take shape. This was the first practices of the post-Russell era, which resolved one of the questions that lingered after minicamp.
There are storylines other than the quarterback situation, despite that being the most pressing. Richard Seymour is still a no-show which was expected until his contract situation is resolved. There are guys who are either injured or getting healthy, which is a factor that will heavily effect what the team can accomplish.
Not news: Rookies Bruce Campbell, Alex Daniels, and Lamarr Houston were absent from this week's practices because of arcane NCAA rules regarding players having to wait for the rest of their class to graduate before they can participate in non-mandatory NFL activities. They are all three expected to arrive soon.
The Jason Campbell Show
Last year's folk hero quarterback Bruce Gradkowski is out of action until training camp, and JaMarcus Russell is on his way to anywhere else, the quarterback position will essentially be the Jason Campbell Show for the remaining three OTAs. This will be his chance to get acquainted with his new receivers and offensive coordinator Hue Jackson's playbook. This will give him a bit of an inside track on the starting position headed into training camp.
TFDSsports.com
---
Related Articles
Kyle Boller and Charlie Frye will also be getting repetitions during the OTAs, but neither of them figure to be in the mix for the starting position. That makes this time doubly important for them to take advantage of because one of the two of them will not be in Silver and Black come opening weekend in Tennessee.
Richard Seymour's non-holdout holdout
Richard Seymour was not at the mandatory minicamp because he has not yet signed his Exclusive Rights Franchise tender. During minicamp, Head Coach Tom Cable said that the Raiders were in negotiatioins with Seymour on a long term deal. This is unusual, as the Raiders are normally tight lipped on everything they do. At that time Cable said that they were "near a deal." Two weeks later, the deal has not yet been done, and Cable didn't express the same level of confidence in the speed of the resolution of the matter.
It is not officially considered a holdout until he misses the reporting date of July 28th for training camp in Napa. Seymour is a veteran leader on a young team and his presence would be invaluable to the developing young defense. However, as the saying goes, it is a business and he feels the need to get the deal done before he shows up. The deal will likely be done before training camp.
M*A*S*H* unit
Partner site
---
Examiner.com
For the first time since the beginning of last season Nick Miller was practicing with the full squad. He worked out on the side during minicamp because of lingering soreness that remained from his broken leg that cost him his entire rookie season. He was first diagnosed with shin splints, but it was later determined to be a broken bone in his shin. He was inactive for the first 15 games before being put on the injured reserve.
Defensive End Matt Shaughnessy was added to the injured list when he strained his hamstring on Tuesday. With Richard Seymour not in camp, it leaves the Raiders a bit shorthanded at defensive end for workouts. As was seen last season with Louis Murphy and Darrius-Heyward-bey hamstring injuries can linger even when sustained over the offseason.
Both Chaz Schilens and Bruce Gradkowski are out until training camp. Schilens underwent a procedure in his foot that was injured last preseason, and is being held out due to soreness. Gradkowski tore his pectoral muscle whilst working out prior to the draft. He no longer needs the sling he had during minicamp, but will be out until training camp.