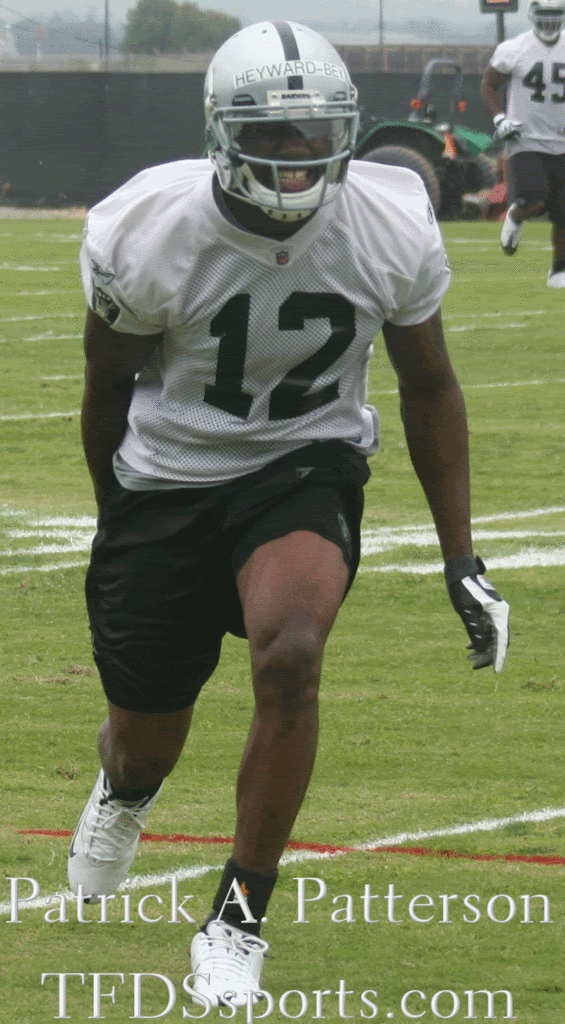 Yeah, you heard me right. The stipulation though is, injuries to the right players. Stay with me here. The main thing that is holding this team back is Al Davis' insistence on starting certain players. So as long as they are able to play, this team will continue to struggle.
This is not a foreign concept. It took Trent Green getting injured for Kurt Warner to step in and win the MVP on his way to taking the Rams to a Super Bowl win. And Al Davis is personally familiar with this idea too so he should know better. Afterall, it took an injury to Dan Pastorini in 1980 for Jim Plunkett to get his shot and he took the Raiders to a Super Bowl win that same year and again a few years later.
It has become obvious that Tom Cable was given a short list of names of players that he is required to start regardless of performance or conduct. And that list consists of three names.
Darren McFadden, JaMarcus Russell, and Darrius Heyward-Bey. Not coincidentally, they are the last three number one draft picks.
All three of these guys need to take a seat and yet they are the only three players on this team that are getting free passes. Not having these players available to the Raiders would be similar to locking Al Davis is a padded room so he can't hurt himself.
Let's start with Darren McFadden. Entering his second season with the Raiders, he has been hurt more often than he has been healthy. And when he has been healthy, he has never been anywhere close to the versatile, game breaker the Raiders envisioned him to be when they unwisely drafted him over actual pressing needs at other positions. When he was hurt last season, it allowed Michael Bush to become the starter at which point Bush proved that he was well worthy of the role when he destroyed the Bucs for 177 yards and 2 touchdowns. In the process he destroyed their playoff hopes and jump started the overhaul and rebuilding phase of the Buccaneer organization. Quite an accomplishment for a backup.
Enter this season where, despite Bush's Herculean efforts last season, McFadden is gift wrapped an unearned starting job. Now through four games, he has a whopping 145 yards rushing with one touchdown and four fumbles. Three of those fumbles were in the Broncos game in week three alone. And yet last week against the Texans, he was somehow still the starter. Then he goes out and puts up a negative three yards rushing performance. You can bet your bank account that he would be the starter again this week if it weren't for him getting injured in that game. You can also bet your kids' college fund that the decision to start him came down from the top. So I would guess that Cable is actually a bit relieved that he isn't forced to start at least one player he doesn't want to start.
Next up, we have JaMarcus Russell. As if we weren't already disgusted by his play on the field, now we find out he has been missing meetings and coming late to practice? It would be one thing if he was trying his hardest and just needed some time or some slack. It is completely another to find out that his lackadaisical demeanor is really how he feels and performs.
Jeff Garcia recently said that he was disenfranchised with the Raiders which is why he asked for his release. Here is a bit of what he said:
"I felt like guys who walked through those doors that just were there to collect a check and not really interested in putting everything that they had within themselves on to the football field."
This recent news surrounding JaMarcus all but confirms that the bulk of that message from Garcia was directed at Russell in particular.
When Cable was asked about the reported fines for Russell's alleged missed meetings and tardiness. He gave the equivelant of an admission in the form of a non-denial, denial:
"Well, I don't know what Boomer [Esiasin] said. I really don't know anything about that…I'm not gonna talk about our internal stuff that way."
So that settles it then; the rumors are true. And Mike Florio at profootballtalk.com came out later with an NFL source that says it was even worse than Esiasin was aware of. This is looking really bad. Seriously, what does a player on this team gotta do to f–k up around here? Garcia is absolutely right. The lack of discipline undercuts this team's efforts.
But back to this whole injury thing…
In the opening game on Monday night, Russell was hurt on a play late in the game and was taken out. What I was thinking at the time was "Please let him be out at least the rest of the game because that is the only chance the Raiders have to win". While that may be a horrible thing to say about a player, I was and AM convinced that the only chance this team has is if Russell goes down with injury. Russell and that offense looked lost with him behind center. And when Gradkowski came in for him, albeit for just three plays, the offense instantly came alive. It was truly incredible. Gradkowksi was given two passes and both were right on target with perfect timing. Accuracy and timing– What a concept huh?
Timing is a funny thing. Because Darrius Heyward-Bey doesn't have it. He also can't catch the ball. And catching the ball as a RECEIVER is kind of a big deal. DHB was hurt much of training camp so he was behind the curve as it was. And coming into the season, he was not ready to step in as a starter. But according to Cable, injuries are the main reason DHB is starting. Ok, injuries to Chaz Schilens maybe. But let's place another hypothetical bet that if Schilens was healthy it would be Murphy that didn't start, not DHB.
And what about Jonnie Lee Higgins and Javon Walker? Sure Higgins got hurt in the first game but he was healthy going into the game and yet he still wasn't the starter. Javon Walker has been healthy, what about him? All Cable would say was "Well, I think with Javon it's probably his desire." First of all, what the hell does that even mean? Second of all; "desire"? As long as JaMarcus Russell continues to start for this team, any use of the word "desire" is hypocrisy in it's purest form.
Cable was later asked if he talks to Al often to which he had this to say:
"We're trying to make sure we put the right team out there in terms of who dresses on Sunday."
I will go ahead and let you decide what that last quote means. But notice he uses the word "We" twice.
And while Cable makes vague accusations about Javon Walker's desire, he makes unfounded ridiculous claims/excuses as to why two rookies are still starting for the Raiders:
"the production up until yesterday by those young receivers has been there. It was a matter of getting them the football."
What is this production he is refering to? Is it DHB's TWO total catches on the season? And did it ever occur to him that a big reason they can't get the ball is because they are often running the wrong route or not executing their routes properly? BECAUSE THEY ARE ROOKIES!! I think it has occurred to him but he answers to a higher power. And no I don't mean God.
We all know that Tom Cable is a discipline oriented guy and Al Davis is not. So when this team has the same discipline problem it has always had, it is obvious who is to blame. And yet, who the goat will be when this team ends the season with double digit losses again? Hint: not the man in the jump suit.
Adding to the overall problem is that Cable feels like he has to use someone as an example to set a precedent. And since Dmac, DHB, and Jrock are off limits, all he can do is let everyone else know that they won't get the same preferential treatment. Javon Walker has been a victim of this. And last game Oren O'Neal was punished as well. According to Cable it was for "missing assignments." This is a perfect example of the problem that undercuts absolutely everything the team is trying to do. The guys that are working hard trying to make this team a winner are being benched and de-activated, while the prima donnas with their fat rookie contracts are being handed the keys to the castle.
McFadden had to hang up his keys for a few weeks due to injury. Now, here's hoping that an injury to Heyward-Bey forces Cable to activate Javon Walker, and Russell goes down to let a quarterback who wants to EARN his paycheck and EARN a win step in. It may be the only chance the Raiders have of winning.
I just wish it didn't have to come to this.