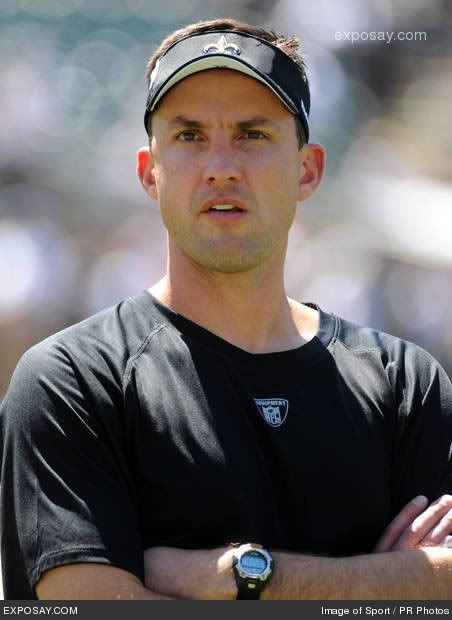 The Raiders' new head coach may not have any head coaching to look back on. But he is not free of experience and success. He certainly had something that impressed Reggie McKenzie, and it is likely to be the same thing that had him rising in the coaching ranks as quickly as he has.
Allen is just 39 years of age, but football is in his blood and has always been part of his life. His father Grady was a football star, playing linebacker at Texas A&M and later in the NFL for the Atlanta Falcons.
Dennis was also recruited by Texas A&M and played four years at defensive back for the Aggies. While he was at Texas A&M, the team went to three straight Cotton Bowls. Allen had the game clinching interception in 1993 over Texas to punch their ticket to the Cotton Bowl.
Unlike his father, Dennis never played a down in the NFL. He was in Bills camp in 1994 but never made the team. After his playing days were over, he went back to Texas A&M as a graduate assistant working with the Aggies' secondary for four seasons. In his final three seasons as part of the Aggies' coaching staff, the team went to the Cotton Bowl, Sugar Bowl, and Alamo Bowl.
He moved on after that to become the secondary coach at Tulsa University. He spent just two seasons at Tulsa before the NFL came calling, and it was the team for which his father had played — the Atlanta Falcons.
Allen served as a defensive assistant with the Falcons for four seasons. His first full season was spent under head coach Dan Reeves as the Falcons made the playoffs with a 9-6-1 record. In Allen's first season with the team, the defense rose from being ranked 24th the previous season to 8th in points allowed and from 30th to 19th in yards allowed.
In 2006, Allen was asked to join Sean Payton's staff with the New Orleans Saints as their assistant defensive line coach. And again, in Allen's first year with the team, the defense jumped from a 28th ranked squad to 13th in points allowed and from 14th to 11th in yards allowed. The Saints would also make the playoffs for the first time in seven years.
In 2008 Allen was promoted to secondary coach for the Saints. The following season, the Saints won the Super Bowl. That season the Saints gave up over 300 yards passing just three times. They also forced 39 turnovers that season with another eight turnovers in the playoffs.
In 2010, Allen's final season with the Saints, the defense was ranked seventh in points allowed and fourth in yards allowed. They allowed a 300 yard passing performance just twice all season and nine other times held their opponent to under 200 yards passing. They would go 11-5 that season and be upset by the Seahawks in the first round of the playoffs.
Here is what Sean Payton had to say about his former secondary coach when Allen was in line for the Broncos job after the 2010 season:
"It's a small league, and there aren't many secrets," said Payton. "His reputation has grown, and the word has gotten around. You can see it on film. He's extremely talented, and another thing about him, he's an extremely hard working guy. He's a guy that's gonna have more of these opportunities down the line… He's done a very good job. He's extremely well thought of within this building."
Last season John Fox was hired in Denver to try and revive a struggling Broncos team. The Broncos were dead last in the NFL on defense in both points allowed and yards allowed. Fox is known for being a defensive minded coach and his choice to run the Broncos' defense was Dennis Allen. Under Allen, the Broncos' defense rebounded to 24th in points allowed and 20th in yards allowed. Sure, that isn't spectacular but as they say, Rome wasn't built in a day.
Even so, the Broncos' defense was instantly formidable after being the NFL's whipping post in 2010. Allen's players and coaches respect him greatly.
Most notably is Broncos veteran safety Champ Bailey who didn't mince any words in letting everyone know what kind of team he predicts the Raiders will have under their new head man.
"He knew how to get us ready," said Bailey. "I give him a lot of credit for the success we had this year… He's one of the most intense coaches I've had. It was a pleasure working with him. You knew what he was going to bring you every day… I know what type of team he's going to have. Very intense, hard-nosed, tough. That's the way he is. That's what I expect his team to be."
Broncos linebacker Von Miller also spoke highly of his now former defensive coordinator and had a similar prediction for Allen's Raiders.
"First and foremost, they're getting a guy that's going to come in right away, and he's going to get it done," Miller said. "That's what he did for us. He came in, he laid out a plan for us, he told us, 'This is how we're going to do it, and this will work,' and that's what happened. We improved our defense an incredible amount. It was a night and day team from a year before… I think he'll do the same thing with the Oakland Raiders."
Allen comes in as a bit of an unknown but the Raiders are well versed in hiring young unknowns with no previous head coaching experience. Jon Gruden, Mike Shanahan, John Madden, and even Al Davis himself all were young upstart head coaches. Allen joins that illustrious group, and if his previous stops are any indication, the Raiders should have early success on his watch.
Follow me on Twitter @LeviDamien or befriend me on facebook.