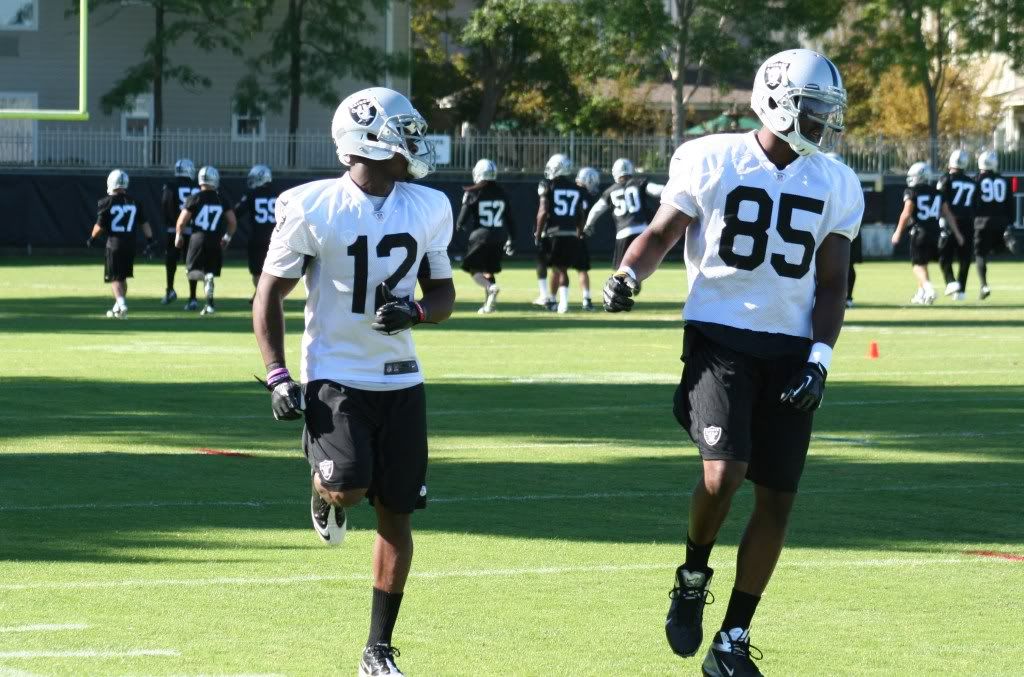 As Monday night approaches we know that Raiders QB Carson Palmer will drop back to pass a number of times.  What is less clear is who will be available to be the targets of those passes and how well they'll do.
The team came into training camp with receiver an overstocked position, but with questions as to the quality of the receiving corps.  The corps responded with some great practices – enough so that the team felt comfortable trading away WR Louis Murphy, a former 4th round pick and sometime starter at the position.
The team undoubtedly feels more comfortable at the receiver position than it has in years.  All 5 of the receivers that the team kept on the final squad have had their moments to shine:
DHB had a breakout year last year and continued his progression as a receiver with a good off season that showed him being able to make difficult downfield receptions, win 1-1 battles more consistently and use his hands to receive instead of his gut – all of these have been issues previously for the former top-10 pick but he was looking to continue his journey playing at the X WR position.
Second year standout Denarius Moore was last year's camp sensation and showed a good connection with Palmer when he joined the team mid season.  He hoped to make strides his second year at the flanker WR position.
Jacoby Ford was another mid-round find by the Raiders.  The diminutive speedster has showed the ability to get behind defenses as well as being sure-handed.  He was to fit into the team's slot position where his acceleration and sure route running would serve him well.
Behind the three veterans, two rookies stood out in camp – 5th round pick Juron Criner and undrafted free agent Rod Streater.  Both had their moments with Streater, especially, looking like a seasoned vet.  Streater played with the first team at times in both camp and pre-season games.  Criner looked dominant at times in OTAs and minicamp and also had some fantastic receptions in preseason games.
The team only kept 5 receivers because the talent of the 5 mentioned was so far above the rest of the squad.  This wouldn't be an issue if everyone was healty but that is not the case, here.
In fact, in practices this week the team has only had two fully healthy wide receivers and only 3 who are even practicing.  Ford and Moore have been sidelined for virtually the entire training camp with foot and hamstring injuries, respectively.  Of the two, Moore is the closest to come back.  In fact, there are indications that he may be able to play on Monday but he has yet to practice and his window to play this week is fast closing.  Ford is all but ruled out this week as he has only started jogging yesterday.
DHB had a shoulder injury sustained in one of the games but has shown the ability to work through pain and heal quickly and it's not expected to be an issue.  He has missed hardly any practices and should be playing the X receiver position on Monday.
Streater is healthy as well and hasn't had any real issues.  He is currently playing with the starters at the Z or flanker position in Moore's absence.  If Moore is unable to go, Streater will likely line up as a starter – an amazing ascent for an undrafted rookie.
Criner is dinged up with an ankle issue that is causing him to noticeably limp in practices. Allen was dismissive of the injury saying he didn't think it would be an issue for Monday.
And that is it.  Only three receivers practicing, two of which have never played in a regular season NFL game.  If Moore is ready to go, it's a big boon for the receiving corps.  If not, the team will simply have to make do.
If Moore cannot go, the team will have to be somewhat creative to compensate.  Streater will start at the Z position but if the team decides to go 3 wide, Criner and Heyward-Bey will play outside and Streater will slide into the slot position where he's a better fit than Criner.
The team has some former wide receivers on their team in TE David Ausberry and FB Marcel Reece but it seems unlikely they will use either in an exclusive receiver role.  Both played in college at the receiver position but receiver in the NFL is, obviously, much more difficult.
Both Ausberry and Reece are weapons that are better suited to their current roles where they can get favorable matchups on linebackers.  Outside they would likely be less effective against cornerbacks in a pure passing situation.
In an attempt to familiarize myself with Knapp's tendencies after his hire this offseason I watched film on a number of Seattle's games when he was the offensive coordinator, there.  I was struck with the number of times Knapp had a TE or more on the field.  The tight end position is a favorite of the run-oriented coordinator because it allows the team to line up in a many run heavy sets and run in different directions but also to run play-action formations from the sets.
What I expect for week one is a heavy use of the tight end position – expect at least one tight end in virtually every lineup in the game. 
In addition, expect for McFadden – who has an above average set of hands – to come split out into a slot role at least a few times in the game.  It's also highly likely that FB Marcel Reece will come out to a receiver position at least a few times.
The RB/FB position doesn't have to flex out wide to be effective in the passing game, however.  The team has shown multiple times in the preseason that they can be effective using the RBs & FBs as swing receivers out of the backfield and McFadden has also shown he can kill the opposing defense on screen passes.  Even FB Owen Schmitt, known more as a blocking FB, can be effective on swing or dump passes.
I'd expect the Raiders to use all of these receiving options to make up for the lack of depth in the receiving corps, currently, due to the injuries.  The team will likely use a lot of  I formations and run a lot of play action on their passing plays.  If the team can run the ball effectively, these formations and tactics will wreak havoc on the San Diego defense.  If the San Diego front line can limit the Raiders running game, it will likely be a long night for the passing game as well.
For more Raiders news & analysis throughout the day, follow me on Twitter @AsherMathews