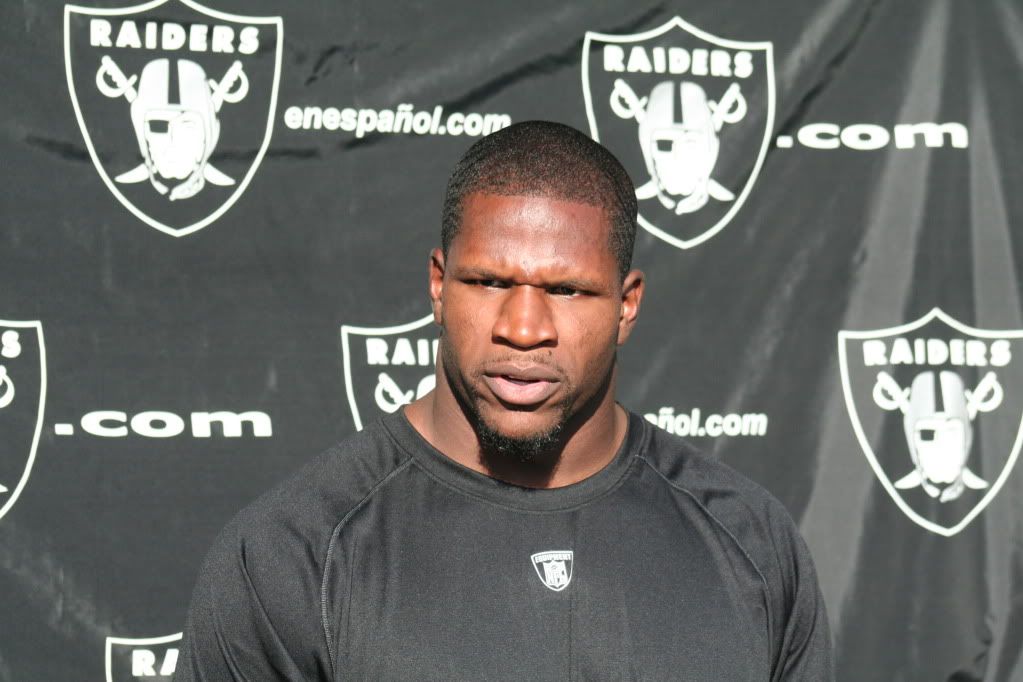 The Oakland Raiders have accomplished a goal they set out to accomplish a long, long time ago: re-signing veteran strong side linebacker Kamerion Wimbley. According to NFL Network's Jason LaCanfora, the deal is a 5-year $48 million deal with $29 million of that guaranteed. The deal will take Wimbley's salary figure down closer to $9 million per year instead of the $11.3 million he would have made if he'd played under the team's franchise tag.
Wimbley acknowledged the cap indications of his signing a new deal:
"We had some issues with the cap and we needed to try to bring in some players so it was in my best interest and the team's best interest to try to work out something long term to try to get some players in here this year to help make us a better team. I was with that."
One reason why they rushed the deal through today was the fact that their Pro Bowl tight end, Zach Miller, may have been getting antsy in anticipation of a drawn out waiting game. Miller was in Seattle today visiting with the Seahawks and no doubt his former Head Coach, Tom Cable, who is now the assistant Head Coach and offensive line coach for that club.
So this move saves the team at least $2.3 million in cap room this year and the next move to come across the bottom of your ESPN screen will likely be "Raiders re-sign tight end Zach Miller" to a long term contract as well.
Getting back to Wimbley, the former Cleveland Brown and 13th overall draft choice of the 2006 NFL draft: he had a team high nine sacks to go with 58 tackles, a pass deflection, and a forced fumble for the Raiders following an offseason in which they only traded a third round pick to acquire him.
Wimbley has shown that he is a versatile player for the Raiders in his short time with the team, lining up at 4-3 outside linebacker in their base defensive package and at defensive end in pass defense packages. He became the player that the Cleveland Browns thought he was in his rookie season when he had 11 sacks, 62 tackles, a forced fumble, and a fumble recovery.
Linebacker Quentin Groves had this to say about his teammate:
"He is so versatile. He is big and athletic, can stop the run on first and second down and then rush the passer on third down. He is a great guy in the locker room as well. If somebody has a question, they go to Kam. He is a silent leader. He leads by actions and by example. He doesn't say a whole lot, but every now and then he tries to joke around a little bit. Couldn't have happpened to a nicer guy."
It may have been a deal where the trade worked out well for both sides, however, because the Browns used the "Wimbley Pick" to get quarterback Colt McCoy, who they think could be the QB they've been searching for all these years.
It definitely worked out for the Raiders when they were able to come into this offseason actually not in need of a SAM linebacker. If all goes well, it will be at least five years before they have to worry about that again.
For those wondering if the Raiders can now use their franchise tag on Zach Miller, the answer is that they cannot because there was a deadline to franchsie players that has already passed, plus Wimbley had already signed the deal and was in camp with his teammates. The franchise tag can only be applied once.
Follow me on Twitter @Raidersblogger ####Search TFDS on Facebook