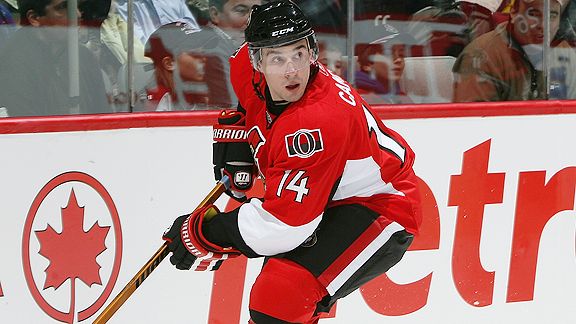 For the second consecutive day, another one of Ottawa's restricted free agents signed on the dotted line before his arbitration case was heard. Yesterday it was Peter Regin and today it was Chris Campoli's turn. By agreeing to terms with management to a one year $1.4 million deal, it likely signifies the last one-way contract that Bryan Murray will extend to a player before training camp opens up this fall.
According to CapGeek.com, with that cap hit, Ottawa now a little under $1.3 million in cap space to address their roster. Considering that Murray has historically opted to preserve a bit of a cap cushion, barring a trade, it looks as though management will preserve the status quo and use training camp as an exercise of competition from within.
Getting back to Campoli…
In an interesting development, he revealed to Steve Lloyd and the rest of Team 1200's Healthy Scratches that he played with a hernia injury last season and underwent corrective surgery approximately 8 weeks ago. Via Twitter, Lloyd tweeted that his injury makes you look at his year differently. It's too bad that Twitter limited Lloyd to 140 characters because I would have liked him to elaborate a bit. Personally, I'm not too sure why the injury cause one to look at his season differently. In light of his injury, I thought Campoli played better in the second half. Whether or not his improved play and willingness to play through a painful injury is enough to warrant consideration that Campoli is anything better than a 5th or 6th guy on a middle of the pack team is up for debate. (And I'd like to hear your thoughts.)
More importantly, the organization has taken Brian Lee's number. They've blocked him out of a roster spot. Why's he still here?