Ottawa Senators (0-0-0)
vs
Detroit Red Wings (0-0-0)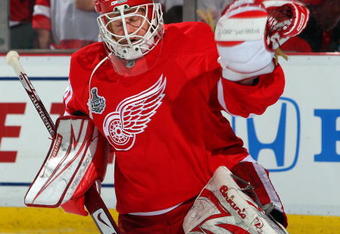 Location: Joe Louis Arena, 7pm EST
Broadcast: Sportsnet and Team 1200 Radio
Opening day. A magnificent time of year when skepticism and cynacism can be put aside for one day so that we can bask in the glory of being on equal footing with every other team in the NHL. Well, at least the ones that didn' t play last night. (As an aside, Matt Cooke is the leading goal scorer in the NHL right now. You just know that Brendan Shanahan is waiting somewhere, scheming and biding his time before he throws the book at him.) Finally, the 'stache and the man that it's attached to, Paul MacLean, make their highly anticipated debuts behind the Senators bench and there's no better place for it to happen than in Detroit – that dump of a city where he had served as an assistant to Mike Babcock since 2005 and reached two Stanley Cup Finals.
Like many other rational and realistic Senators fans who have their thumbs on the pulse of this team, tempered expectations are en vogue. As often as I've spent either espousing the benefits of a long-term philosophical approach to this season, encouraging management to bide its time with the organization's best prospects or poking holes into that sect of the fan base that regularly displays a bias for short-term rationality, this does not mean that there aren't compelling storylines to draw us in as fans.
Although lacking talent, this year's roster is certainly intriguing. Is Nikita Filatov the youngest Russian to ever to be lazily stigmatized by the 'enigma' label? Or will Jason Spezza raise Filatov's profile and demonstrate that the Columbus Blue Jackets are an organization that burns through more blue-chip prospects than an OSU football scandal?
Can Ottawa's veteran defencemen be any worse than they were last season? Nevermind. Don't answer that question.
Will Craig Anderson replicate last season's numbers?
Is this Daniel Alfredsson's last season? Will Nick Foligno's name stop being bandied about in the discussion of prospective top six forwards?
Is it too much to ask late season call ups like Colin Greening, Bobby Butler and Erik Condra to build on their momentum from last season? Can Filatov and Peter Regin develop into reliable offensive weapons? Or is it unfair to pin much of this season on a few young players who will experience the inevitable ups and downs that inevitably accompany a team with such low expectations?
Will this be the season that Erik Karlsson breaks Norm MacIver's points record by a Senators defenceman?
If David Rundblad and Mika Zibanejad get off to slow starts, will Zibanejad's NHL audition end at 9-games? Will Rundblad accept an assignment to the AHL or do we have to worry that Rundblad will follow Oscar Moller's lead and head back to the SEL rather than play in the AHL?
Can Bryan Murray pull a Mike Holmes and continue to rebuild the house that he helped destroy? If so, what will be the resale value on some of Ottawa's veteran players? And perhaps more importantly, will we find any flaws in the new foundation?
More than anything, it's important to keep in mind that this season is going to be one of constant evaluation. By the end of it, we should have a firm grasp on what the players actually are. With a relatively healthy squad and a new coach, the players are out of excuses. Whatever happens this season, it's on them.
Drop the puck already.
Ottawa's Lineup:
Michalek-Spezza-Filatov
Greening-Zibanejad-Alfredsson
Foligno-Da Costa-Neil
Condra-Smith-Butler
Phillips-Lee
Karlsson-Kuba
Cowen-Gonchar
Anderson
Lineup Thoughts:
With Zenon Konopka out of the lineup, I guess this means that Jason Spezza won't be comfortable taping his stick at centre ice mid-game, throw the tape on while standing on the emblem of Detroit.
It was speculated that Brian Lee and Konopka would be the healthy scratches for tonight's game but obviously that is no longer the case. One has to wonder though, what does this say about Rundblad that the organization neglected to start him against Detroit? Detroit isn't exactly a physically imposing team and you would have to think David's game would be best suited against an opponent like Detroit instead of say, the Leafs or Flyers. Will he even get a chance to stick here to start the season? Or is he just playing emergency band-aid from the pressbox?
SenatorsExtra.com Prediction Panel:
James Gordon's prediction panel – that we're fortunate to be included in – is back for its third season. After first season's champ Ian Mendes defecated the mattress and finished at the bottom of the standings, the bar hasn't been set particularly high for me to defend my championship. Interestingly, Ian and I are the only ones who picked the Sens to win tonight's game. Last place, here I come.
Here's my prediction for the game:
Senators 3, Wings 2
It's probably an ominous sign when Zenon Konopka doesn't wait until January 13th to make an inspirational speech and rally the troops. Last season, Konopka's 'doormat' Islanders lost their next game 6-4 to Ottawa but I'll ignore history here and say that the Senators will come out hard in head coach Paul MacLean's return to Detroit.