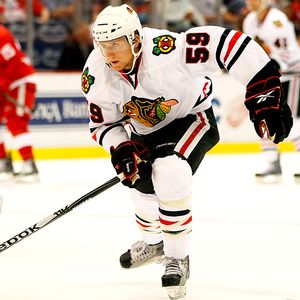 Excitement! A NHL transaction involving the Ottawa Senators actually happened!
The Senators announced today that the club has acquired forward Rob Klinkhammer from the Chicago Blackhawks in exchange for a conditional seventh round draft pick in the 2013 NHL Entry Draft.
So who the hell is Rob Klinkhammer?
Besides rocking a ridiculously awesome hockey name, Wikipedia reveals that he scored his first professional goal against the Binghamton Senators and a quick Google image search shows that  the undrafted forward once sported an ill advised faux-hawk.
According to the Senators' press release, Klinkhammer, 25, has recorded two goals and four assists in 18 games with the Blackhawks' American Hockey League affiliate, the Rockford IceHogs, this season. He will join the Senators' AHL affiliate, the Binghamton Senators, who play three games in three nights this weekend.
A native of Lethbridge, Alta., Klinkhammer set professional career highs in goals (17), assists (29) and points (46) while ranking third in overall team scoring in 76 games with the IceHogs last season.
Great, but we were all kind of hoping for some young forward who could play on the second line in Ottawa… not Binghamton.
Ah well, the issues with this year's Binghamton are well documented. They could use whatever help the undrafted 6'3″, 209 pound forward can provide.