A
Having broken Craig Anderson's string of starting 18 consecutive starts, last night's victory over the Predators was Alex Auld's first win since December 16th, 2011.
Speaking of December 16th, with 22:17 of ice-time last night, it marked the most ice-time that Chris Phillips has had since that date. In fact, in the 55 games that Phillips has played this season, he has only had seven other games in which he's had more ice-time than the workload that he received last night in his 1,000th career regular season game.
With the Senators mired in a seven game losing streak, the Big Rig could not have picked a better night to break out. Thanks to his five hits (three in the first period), first two goal game since November 19th, 2009 and numerous intangibles that just can't be found in a boxscore
One emphatic fist pump.

One back slide goal celebration.
The veteran made the night memorable for anyone in attendance or watching at home.Hell, his play, combined with the abhorrently poor play of rookie Jared Cowen, forced Paul MacLean to bump him up to the team's second pairing with Sergei Gonchar to start the third period.
B
Approximately thirty minutes of time on ice for Nashville's first defensive pairing? That noise you hear is the sound of a cash register ringing on July 1st. Good god these guys, particularly Suter if he hits the open market, stand to make a lot of jack with their next contracts.
Speaking of contract talks, on TSN's Insider Trading segment last night, Bob McKenzie addressed Erik Karlsson's impending negotiations. According to McKenzie, talks between Bryan Murray and Karlsson's representation – Don Meehan and the Newport Group — will begin this week or next. In addition to this news, the expectation is that Karlsson's next deal will exceed Kris Letang's second contract in monetary value and term – four years with a cap hit of $3.5 million – but be less than Drew Doughty's seven year extension that carries a $7.0 million cap hit. I would wager that Ottawa comes in with a short two or three year deal worth $5.0-5.5 million.
C
How special was yesterday?
Mike Fisher made his on-ice return to ScotiaBank Place. Chris Phillips scored twice in his 1,000th game. Milan Michalek helped ruin his Cy Young season with two assists and Bobby Butler (?!?!) picked up two points in his return to the lineup. And finally, The Euge threatened to put Leafs fans in one of ScotiaBank Place's two jail cells that are located somewhere in the depths of the arena. (Note: For some reason, I have the image of Pascal Leclaire rattling the bars with the tin cup in my head.)
Special indeed.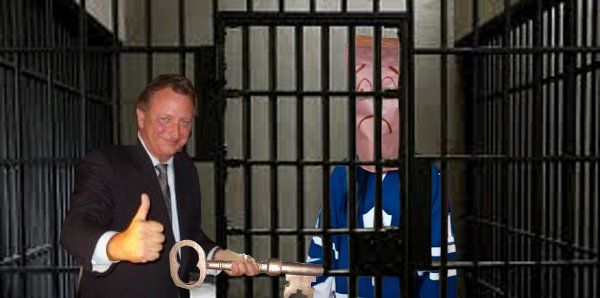 Hat tip to @SensForLife11 for this awesome PhotoShopped image. Give him a follow on Twitter.