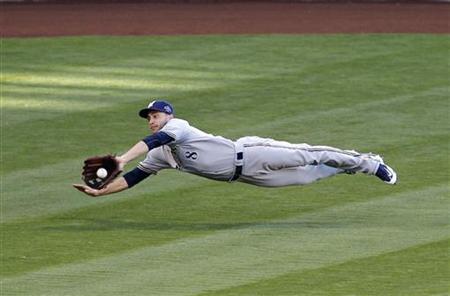 Photo: Danny Moloshok/Reuters
Like many Brewers fans, I got suckered into watching today's All-Star Selection Show, only to find out that Ryan Braun won't be going as a starter and that Zack Greinke won't be going at all.
On Twitter, the reactions were somewhat mixed, ranging from frustration over the perceived stupidity of the voters who picked Melky Cabrera over Ryan Braun, to anger over Giants' fans ballot-stuffing practices (the same ones that made Miller Park the best ballpark in baseball, according to a fan vote that was dominated by folks from Milwaukee), to conspiracy theories involving Tony LaRussa picking all of his own guys (all the Cardinals on the roster were either voted in by fans or players).
Either way, the fact that Braun finished about 100,000 votes shy of Melky Cabrera irked a lot of people, which makes sense: Braun is having arguably the best batting season of his career (1.005 OPS), in a year that many expected his numbers to decline after his positive drug test would cause him to "stop taking steroids". Yes, it's annoying that Braun essentially – from a Wisconsin point-of-view, at least – lost out on an All-Star spot he probably deserved for the heinous offense of having his urine mishandled, but this is simply the consequence of leaving the voting up to the fans. The results of the voting are going to resemble the opinion of the majority of baseball fans, and by "majority of baseball fans", we're talking about the folks that continue to berate Braun about PED's in every NL city.
Similarly, the story behind Greinke not getting in isn't one of LaRussian malice (even though Greinke did call Chris Carpenter "phony" last year) or any other conspiracy, just a convoluted process that has several motives besides getting the best players on the roster. As LaRussa explained today, Greinke – who is leading the majors in FIP – wasn't one of the eight pitchers selected by the players, but still could have made the team as one of the five pitchers the manager was able to choose. However, LaRussa was effectively limited to three choices after picking Arizona's Wade Miley and Colorado's Huston Street to meet the "one player from each team" rule, and ended up picking Cole Hamels and Clayton Kershaw over Greinke and Johnny Cueto, which is at least understandable. (Also, LaRussa apparently thought that Greinke was pitching the Sunday prior to the All-Star game, which is annoying but also an indictment of just how silly this whole process is.) Simply put, there are a lot of good pitchers in the NL right now, and between the multi-tiered voting process and series of token votes, somebody who deserved to make the roster was going to get left out. This time, it was Greinke, and it's not a big deal.
Let me sum this up quickly: The voting process for the All-Star Game is a joke. It's not hard to make a persuasive case that Greinke belongs on the roster and Braun belongs in the starting lineup. However, MLB's annual proclamation of "This One Counts" deserves an equally loud rimshot. There's no reason to get worked up over the fact that Giants fans cared enough to send their favorite players to the All-Star game, or that there are lots of people who think Ryan Braun used PED's (it's certainly possible that he did), or Greinke not getting the recognition many thought he deserved, because it doesn't make any difference to the fate of the Brewers. It's best just to move on.