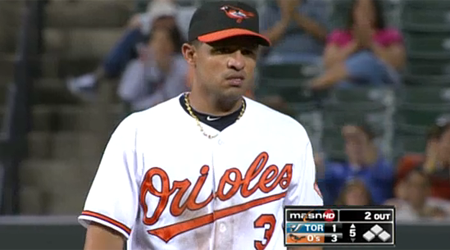 Yesterday, we took a look at some of the internal options the Brewers have to fill out their bench. Due to the money spent at other positions, it looks like the Brewers will have to get creative to fill out the rest of their 25-man roster. When we got to the utility/middle infielder spot on the bench, there weren't that many attractive internal options.
The Brewers added another name to the middle infield mix on Wednesday, signing veteran Cesar Izturis to a minor league contract. He's not exactly a great option, either, but he is better than most of the other options.
He's a career .255/.295/.322 hitter, but his bat isn't the reason why he's been able to carve out a 10-year big league career. In 8795 career innings at shortstop, Izturis has a career UZR/150 of +7.6 and has been +54 in Defensive Runs saved. He's played much less second base and third base in the majors, but he's been above average at those positions, too.
Basically, Izturis is a guy with a solid glove at just about every position, but he's pretty much useless with the bat. The glove is good enough to make him a touch better than replacement level, and luckily, the Brewers are only bringing him in on a minor league deal. He's basically 2010/2011 Craig Counsell without the Wisconsin ties.
He won't be a lock to make the big league roster, but given the perceived desire of Doug Melvin and Ron Roenicke to have veterans on the bench, he probably starts the spring ahead of Eric Farris, Edwin Maysonet, and Zelous Wheeler on the utility depth chart. Even if he doesn't make the team out of camp, he isn't a bad guy to have stashed away in Nashville in case of injury or ineffectiveness.