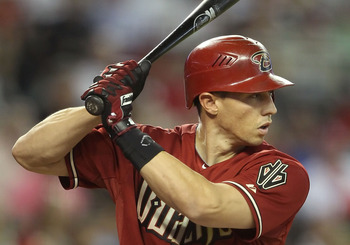 Photo: Christian Peterson/Getty Images
The Brewers played another round of musical shortstops today, claiming infielder Cody Ransom off waivers from the Diamondbacks and optioning Edwin Maysonet to Nashville. The 36-year old Ransom has split time between Arizona and AAA Reno this year.
Considering the current state of the Brewers infield, Ransom will probably get some playing time, but the chances of him being the permanent solution don't appear especially good. Ransom has had a very nice start to the season, hitting .269/.345/.577 in 52 plate appearances for the Diamondbacks, but there's not much to suggest he will keep it up: Ransom has spent parts of the last 12 years in Triple-A, and while he has shown some pop there (.255/.334/.466), the last time he posted an OPS over .600 in the big leagues was 2008. Ransom's power might be a welcome addition to the currently punchless middle infield, but whether he will be able to make enough contact for it to work is an open question.
It's hard to get an accurate picture of Ransom's defensive abilities, but there's enough evidence to suggest he will probably hold his own at shortstop. Ransom has been jerked all over the diamond in the majors and minors, but shortstop has always been his primary position, even as he's aged. Defensive metrics can generate some very goofy opinions in samples as small as Ransom's major league career, but they don't have anything terrible to say about his defense, either.
Ransom is by no means a long-term solution at shortstop, but there is at least some hope that he will muster enough offense to be a better proposition than the Izturises of the world. There is some hope of this being a decent pickup, but, fortunately, there also is no real bust potential: Maysonet will be waiting in Nashville if Ransom fails. Until then, pray for a more meaningful move near the trade deadline.