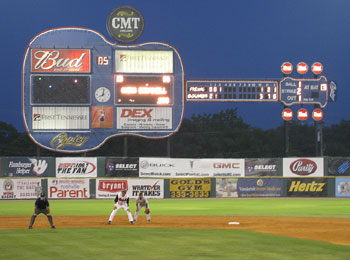 MLB teams often change minor-league affiliates at an almost-dizzying pace, but the Brewers will have at least some stability for the next few years. Over the last two days, the club announced that they will be extending their player development contracts with AAA Nashville and AA Huntsville for another three years, ensuring that the two teams will be affiliated with Milwaukee until at least 2014. The Brewers' affiliation with Nashville Sounds goes back to 2002, and their agreement with the Huntsville Stars goes back to 1999.
There's not much to be said here, besides the fact that it's good to see these deals get done without too much of a hassle. The stadiums in both Nashville (Greer Stadium) and Huntsville (Joe Davis Stadium) aren't in great shape, and there have been occasional whispers that the Brewers aren't thrilled with either situation, but neither stadium was apparently too great a roadblock – in his statement, Doug Melvin did encourage both cities to look at the issue (read: put up money for a new ballpark).
By all indications, the Brewers appear to have it pretty good with their affiliates. The Wisconsin Timber Rattlers are a first-class operation and draw plenty of local interest (they're currently playing in the Midwest League championship) and there's no reason to complain about the others – until you see other teams with affiliates in places like Lancaster (crazy high-offense environment) or Bakersfield (well…), you don't realize how good the Brewers have it. Let's hope it stays that way.