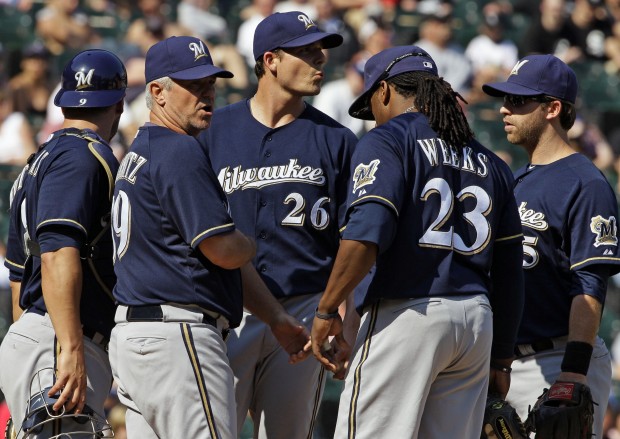 Talk about one mirror of a series. I completely gushed over Friday night's drama-filled outstanding pitchers duel between two of the league's best in 2012. And by Sunday, the team finished on the opposite end of where they started on the wrong end of a 1-0 shutout. This complete swing of events did little to alleviate ongoing bullpen concerns (except for Axford—I'm feeling better about him) and proved once again how inconsistent the offense is. Though the Brewers were facing a tough White Sox team, their otherwise pedestrian bottom of the order killed the Crew: they contained Dunn and Konerko, but couldn't seem to retire Dayan Viciedo and Orlando Hudson. And who the hell is Eduardo Escobar?
And tonight, in what has become a common theme for the 2012 Brewers: it gets worse. They face the first-place Reds at Great American Ballpark, a spot where the Brewers have had little luck over the last couple seasons. Despite losing 5 of their last 6 to the Indians and Twins, the Reds hold a scant one game lead on the Pirates and two on the Cardinals. This is the second time the Reds and Brewers have squared off last year, and they split their season series in 2011. Probable pitching matchups are: Gallardo vs, Mat Latos tonight, Estrada vs. Bronson Arroyo tomorrow, and Greinke vs. Bailey on Wednesday afternoon.
In watching this somewhat-important divisional series, please consider the following:
Time to throw a new reliever into the fire. Nick wrote a fine piece about the much-maligned bullpen last night, and I agree with his assessment about Manny Parra. I would also group Tim Dillard in with Parra as the two weakest relievers on the team this year, and I question why Roenicke uses them in such high leverage situations, like extra innings. I understand that a manager can't always use the reliever he wants in every situation, but these two have proven they can't be counted on when the game is on the line. I would say Dillard isn't even good enough to be in the majors at this point. Unfortunately, I don't think new acquisition Livan Hernandez will become the answer in those moments at this stage in his career, but I was surprised not he didn't even warm up on Saturday or Sunday. At this point I'd rather see him get the ball over Parra or Dillard in most any game situation. Hell, try Mike McClendon out too. He'll be sent down for Estrada on Tuesday anyway. Easy way to keep relief arms fresh.
How to pitch Jay Bruce this time? Ah, the age old quandary. After a big April, the notoriously streaky Reds right fielder is in the midst of a cold stretch at the plate, hitting just .232 this month. But if there's any team he could break out of a slump against, it's Milwaukee. The Brewer killer has a .317/.393/.548 career line against current Brewers pitchers, including .450/.500/.750 against tonight's starter, Yovani Gallardo. He's still hitting fifth in Cincinnati's lineup behind NL leading hitter Joey Votto, so the likelihood that he comes up to bat with runners aboard is high. Like I did in May when he was hot, I still implore Roenicke to pitch around him or even intentionally walk him despite the slump, especially considering that Dusty Baker usually bats Ryan Ludwick (.229/.309/.465) or Scott Rolen (.209/.273/.355) behind him.
Ramirez and Weeks are coming around. If you've followed his career, it's no surprise that Aramis Ramirez began to rake once the calendar flipped to June, and on today, his 34th birthday, everyone feels much better about him as the cleanup hitter going forward. What we're all thankful for is Weeks' recent resurgence. He has hit safely in 9 of the last 14 games, 5 of which have been of the multi-hit variety. Unfortunately only he has only 3 extra base hits since then and zero home runs. But while he hasn't started to drive the ball again, his timing at the plate has visibly improved to pre-slump levels, which leads me to believe the power will return soon, and it needs to if Roenicke continues to bat him sixth behind Hart and Ramirez. Ultimately I think his natural spot in the lineup is second, but I can't see that happening without continued improvement and a healthy Lucroy. No one else on the roster can adequately protect the five hole at this point.
Under normal circumstances, I would consider taking one game from this series a success. But the 2012 Brewers need to win series consistently to contend, a prospect that becomes harder and harder to see every week.