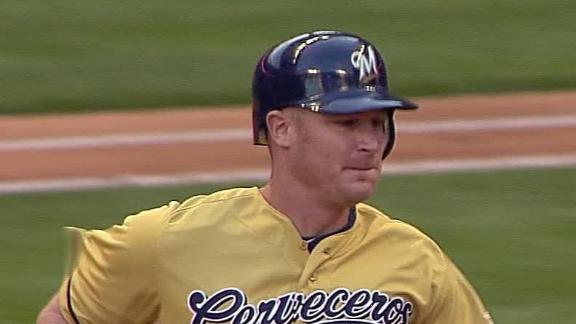 The Brewers announced today that infielder Brooks Conrad, who was designated for assignment yesterday in order to make room on the roster for Tyler Thornburg, has been claimed off waivers by the Tampa Bay Rays. This ends his six-month long tenure in the organization, a stay that was puzzling to say the least. Let us briefly recap:
Prior to joining Milwaukee, Conrad spent two years as a part-timer with the Atlanta Braves. He was very effective in a pinch-hitting capacity over that time, but he was mainly remembered for his iffy fielding, particularly for a four-error game in the 2010 playoffs. After the 2011 season, he wasn't able to garner a major-league deal anywhere, and ended up settling for a minor-league pact with the Brewers last January, a move that was met with some surprise: Conrad cost essentially nothing and had the potential to be a decent reserve (with pinch-hitting possibilities, as well as the potential to stand at second, third, and first), but putting him on the major-league roster would essentially block Taylor Green, a younger, better player. Ultimately, Conrad and Green were both sent to Nashville in favor of Travis Ishikawa, a backup first baseman with a career .727 OPS.
Conrad went on to rake in AAA, posting a video-game-like line of .405/.482/.905, before getting called up in May when Mat Gamel tore his ACL. However, Conrad's arrival in the big leagues coincided with a horrible slump: In two stints with the major-league club (Conrad was optioned back to Nashville when Carlos Gomez went on the DL, only to be recalled after Ishikawa injured his ribcage), he combined to go 3-for-40, with a final line of .075/.136/.225. As a result of his struggles at the plate and the presence of Taylor Green, who could play every position Conrad could, only slightly better, Conrad fell into disuse, and was hastily dropped from the 40-man when some injuries and a 15-inning game created the sudden need for another pitcher.
At this point, there's no word on where the Rays will send Conrad or what they plan to do with him. However, there's a good chance that this move works out well for them. Conrad's recent slump is likely just the product of poor timing: He has a solid track record of hitting in the majors, and was crushing the ball at the time of his promotion. Don't be surprised if the Rays' end up reaping the benefits of Conrad's rebound, even if that "only" yields them a useful bench bat.
It's remarkable just how unusual the story of Conrad's tenure with the Brewers is: He was signed for next to nothing, passed over for a player with considerably fewer uses, picked in favor of a player that was distinctly better, and plagued by a 1000 point difference between his major and minor league line. In all likelihood, his stay in Tampa will come with a return to what he's been his whole career: A competent reserve who still requires the right situation in order to stick. That might not sound like much, but it's a heck of a lot better than "Brad Nelson 2.0".