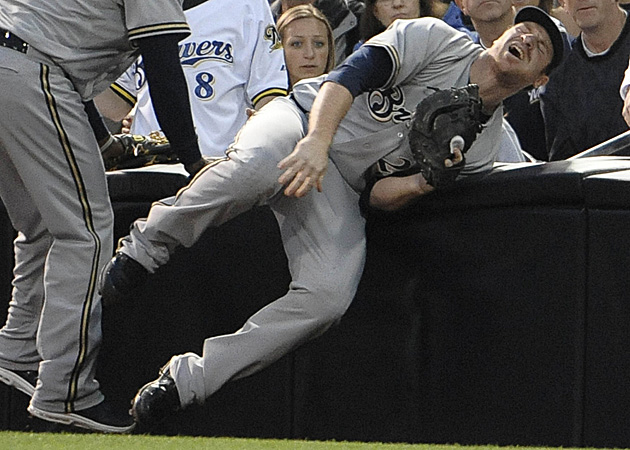 Photo: CBS Sports
After tearing a ligament in his knee last night, Mat Gamel is headed for surgery, and will probably miss the rest of this season. This puts the Brewers right back where they were three months ago, when Prince Fielder signed with the Tigers and the team had no first baseman.
If you take a closer look, though, this loss might even be more problematic. Gamel is nowhere near the player Fielder is/was, and his performance over the last month was a bit underwhelming. However, last Winter, the Brewers had an uncelebrated, yet competent replacement in Gamel waiting in the wings. Right now, the club doesn't appear to have anyone to take Gamel's place that wouldn't cost them a lot of runs over the rest of the season. Also, the club's chances of acquiring a first baseman appear slim at this time: Few clubs are willing to trade away players a month into the season.
Either way, the Brewers are going to have to find someone to play every day, and my phone hasn't rung yet, in spite of the first baseman's mitt in my garage. There are a lot of ways they could go about doing that, some more effective than others. (You can probably guess on which end of the spectrum that first sentence was.) So, today, we're going to take a look at the various approaches the club might take.
For the time being, it looks like Travis Ishikawa will come off the bench to take Gamel's spot. Ishikawa has his uses as a backup and pinch-hitter, but doesn't profile well as an everyday option at all: He has spent parts of five years in the big leagues, and has accumulated about one full season's worth of plate appearances (693). In that time, Ishikawa has hit .262/.323/.402, for an OPS+ of 91. That is likely to fall well short of what Gamel would produce in that time, and Ishikawa's excellent defense isn't enough to compensate for that. Ishikawa is a perfectly fine emergency option, but the Brewers need to look farther for a credible replacement.
After that, the Brewers have a few more guys in the organization who could see some time at some point or another. Infielder Brooks Conrad was called up to take Gamel's roster spot, and has played a little bit of first base in the majors. Conrad has hit left-handed pitchers very well (.268/.358/.465 in 81 career PA's) in his brief time in the big leagues, and was on an absolute tear (.400/.483/.820) in Nashville, but likely wouldn't be viable except as part of the short side of a platoon.
It also appears that outfielder Corey Hart might slide over to first base, at least on a part time basis. There isn't any question that Hart would replace Gamel's production and then some, but he also has very limited experience at the position, and on-the-job-training at the major-league level is never a pretty sight or recipe for success. Also, moving Hart to first base would merely create a corresponding void in the outfield, and with Ryan Braun hurting and Nyjer Morgan seemingly lost at the plate, this would probably create more problems than it would solve.
As you can see, the Brewers have plenty of guys capable of standing near first base, but each of them are going to end up being a big net loss for a team that is going to need every win they can muster. At this point, it's almost certain that the Brewers' best options probably lie outside the organization. Of course, what exactly that might be is pure speculation to anyone not connected to the team.
According to MLB Trade Rumors, there are two free agent first baseman from last year who haven't yet signed with a team: Ross Gload and Derrek Lee. (Jorge Posada retired.) Gload put up a .603 OPS last year and is probably done, but Lee, if interested, could be a very good fit for the Brewers.
Lee is 37, but has held up pretty well with age, hitting .267/.325/.446 last year. That line isn't great for a first baseman, but it would be far better than any of the options we've discussed, and Lee is reputed to be an excellent fielder and even better person. However, there's one major problem: Money. Lee didn't find an offer he liked over the winter, and it seems unlikely that the Brewers would suddenly shell out the cash (Lee earned $7.25 million last year) to make things work now, especially considering how much the club has already spent over the past year.
It's far too early to make anything more than an educated guess on how things will work out, but one thing does seem certain: Ishikawa will be the first baseman for the near future, possibly augmented by another in-house option. Ideally, the Brewers would be able to make an upgrade in the next few months, whether via free agency or the currently nascent trade market. However, things don't always work out like you'd hope, which we can all attest to after watching a full season of Yuniesky Betancourt.