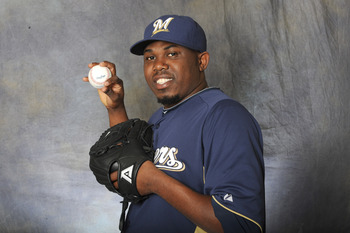 Rich Pilling/Getty Images
The Brewers made their first cuts yesterday, and they lost another player today, with right-handed reliever Frankie De La Cruz being claimed off waivers by the Cubs. It looks like the Brewers didn't see De La Cruz winning a job out of camp, and thought they could sneak him through waivers and send him to Triple-A, a plan that was thwarted by the Cubs' apparently sunnier view of the righty.
With the loss of De La Cruz, the Brewers bullpen picture isn't changed all that much: He wasn't exactly setting the world on fire this Spring (3 walks and 8 runs in 3.1 innings), and was a bit of a long shot to make the club out of camp in the first place. Still, De La Cruz's departure clears up the bullpen picture a little bit, narrowing the field to Manny Parra, Mike Fiers, Tim Dillard, and Zack Braddock (and possibly Mike McClendon and Brandon Kintzler), who are in competition for what is essentially two spots. Despite De La Cruz's excellent stuff, he is 29 and just didn't stand out among a crowd of arms several years younger than him.
That doesn't mean the Cubs won't find use for him, though. De La Cruz has spent his whole career in a perpetual battle with the strike zone (the strike zone is winning so far), and has sometimes been much more hittable than a guy with his stuff should be, but the same stuff makes him much more intruiging than your average fringy 29 year-old: De La Cruz has gotten his fastball near triple digits in the past, though that velocity was slightly down during his 2011 big-league stint, and possesses a usable slider. The current incarnation of the Cubs will acquire talent however they can, and De La Cruz should have a much better shot at making the Cubs roster than he would in Milwaukee. If the Cubs are able to harness his raw stuff, then Brewers fans could be complaining about this day for a long time, but fans of all four of De La Cruz's previous organizations said that too at one time or another.