The Brewers haven't formally announced who will be their starter on Opening Day against the Reds, but they did name their starters for the spring openers: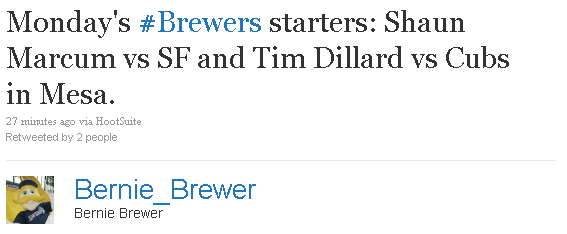 I wouldn't read too much into Marcum getting the first start of the spring, since he won't be throwing too much, anyway — we're still quite a bit of time away from Ron Roenicke juggling things around to set up a rotation for the regular season. Roenicke evidently did give this decision some thought, though, because he was quoted as saying earlier that he didn't want his new-look starting rotation to play against division rivals during spring training. When news came down earlier today that Marcum would be starting one of the games on Monday, it was pretty easy to guess that he'd be taking the game against the Giants — we just didn't know who would take the mound first against the Cubs.
After an eventful Wednesday during which everyone seemed to get hurt at once, this was thankfully some of the biggest news to come out of camp on Thursday. It's not much, but when we've been without baseball for so long, any probable starters being announced — even when Tim Dillard is one of them — is enough to get me excited.