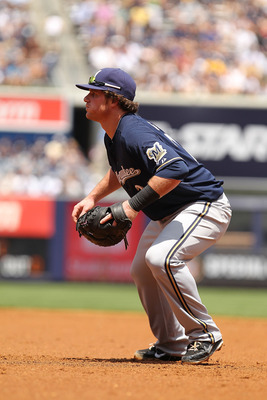 As fans we know that replacing Prince Fielder won't be easy but no one knows that better than the man who enters Spring Training as the odds on favorite to win the position, Mat Gamel.  But it also brings up an interesting conundrum in figuring out what are realistic expectations for Gamel in his first full season in the majors.
He's stepping in for a man that had 100+ RBI's in all but 2 of his full years in the majors and a man that averaged 38 Home Runs a season.  So those are huge numbers to try and replicate on the 2012 team.  But the question is does Gamel need to do this all on his own?  I think the addition of Aramis Ramirez points to the Brewers thinking it's going to be production by committee in putting those numbers together.  
O.k., if that's the case then what are realistic expectations for Gamel?  If we look at his numbers last season in Triple A we see a player that shows he's ready for the major league level.  He had a .310 batting average, 28HR's, and 96RBI's in the Pacific Coast League (a hitters league to be fair).  But what about projecting those numbers to the big leagues?
Well, according to FanGraphs Bill James thinks Gamel will produce a .282 batting average with 19 Home Runs and 72 RBI's.  RotoChamp has a less than stellar view, putting his batting average at .244 with 14 Home Runs and 51 RBI's for this upcoming season.
For me I think if we get Gamel as a nearly everyday starter and he puts up a .275 batting average and has around 20HR's and 70RBI's or more it's been a good first season for Gamel at the major league level.
Realistically all of those numbers are a total crap-shoot as we haven't seen anything out of him at the major league level at first base.  Spring Training will give us a better indication of where he stands both at the plate and in fielding his position, but the recent recent reports of him taking things to another level in terms of conditioning and taking a much more serious approach to the game bod well for him to at the very least get the first crack at things in the regular season and I think that's all that you can really ask of him at this point in time.  What do you see as your realistic expectations and where do you see his numbers shaking out this year?  Leave your comments below!