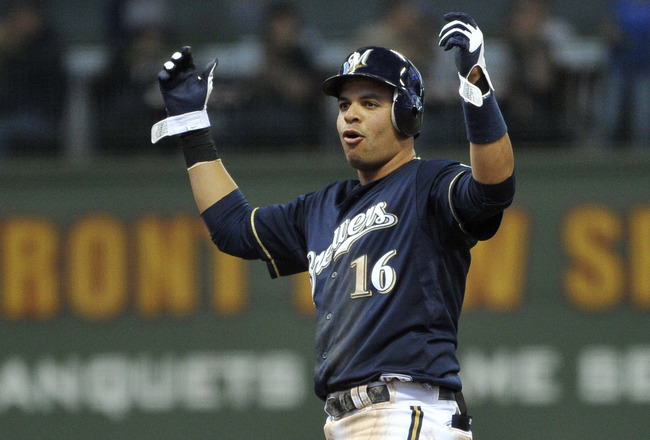 (photo courtesy of Brian Kersey/Getty Images)
Coming off of an 18 inning shut out streak to end the Padres series and facing Tim Lincecum minus Ryan Braun you'd be forgiven if you gave up hope on tonight's game. However, Lincecum was sporadic at best early on and allowed the Brewers to get off to a fast start in a 6-4 victory.
It wasn't exactly easy after the Brewers roughed up Lincecum for a 3-0 lead after the 1st inning. It wouldn't have happened had catcher and best offensive weapon Jonathan Lucroy not singled in two runs. He also added a triple on the day as well.
San Francisco fought back and tied the game up at 4-4 after a three run inning of their own in the sixth.
However they couldn't get over the hump thanks to Aramis Ramirez's game winning single that plated Norichika Aoki and Rickie Weeks.
After pulling Greinke it was Kameron Loe time and he pulled the Brewers out of a jam. It also allowed Kameron Loe to pick up the victory in the pitching battle.
Following Loe it was the good version of the Veras, K-Rod, Axford combo as they shut down the Giants despite a few tense moments from Veras and K-Rod. Axford got the save which was his 6th this season and 49th in a row.
Starting Pitchers:
MIL: Zack Greinke (3-1, 3.86 ERA): 5.1IP, 7H, 4R, 3ER, 1BB, 5K (96 pitches, 60 strikes)
SF: Tim Lincecum (2-2, 5.68 ERA): 5IP, 2H, 3R, 3ER, 4BB, 4K (84 pitches, 47 strikes)
Brewers Hightlights:
Aramis Ramirez: 1-3, 2RBI (12), 1BB, .211 avg
Jonathon Lucroy: 2-4, 2RBI (10), 1 3B, .292 avg
Rickie Weeks: 1-3, 1 run, 2BB, .177 avg
Giants Highlights:
Melky Cabrera: 2-3, 1RBI (10), 1BB, .311 avg.
Angel Pagan: 2-4, 1SB (3), .259 avg.
Buster Posey: 1-4, 1R, 1RBI (10), .321 avg
Notes:
– Carlos Gomez left the game early after his 2nd at bat and appeared to grab at his left hamstring. Aoki came in to Left Field and Nyjer Morgan scooted over to Center Field

– Lincecum had 75 pitches through 4 innings, 50 of which came in just the first two innings.
– Just how out of whack was Lincecum, well look at this strikezone plot from Brooks Baseball it shows all of his stuff was inside and he couldn't find the outside of the strikezone to save his life.

– Now compare that with the strikezone look fo Greinke:

I'd say that's a huge difference and a perfect example of the struggles that Lincecum has had all season long for whatever reason. At one point tonight he was all the way to the furthest left of the pitchers rubber that you could get for a right-hander and still was throwing the ball far inside.
– Rickie Weeks finally broke through today after going 0-for-13 since his last hit way back on April 29th against St. Louis and he looked a heck of a lot better at the plate tonight than he has in quite some time. Perhaps moving him down a spot has taken some pressure of him mentally and just allowed him to swing the bat.
– Jonathan Lucroy is having himself one heck of a season, despite being credited with a crappy call of a passed ball. He had a massive 2 out, 2 RBI single in the bottom of the 1st.
– The Brewers only managed 7 hits tonight, but you have to love the fact that they made Lincecum pay for being erratic and made their small amount of hits be run producing for the most part.
– John Axford sits at 49 saves as we stated above, but he's just 2 saves away from tying for 3rd longest saves streak of all-time.