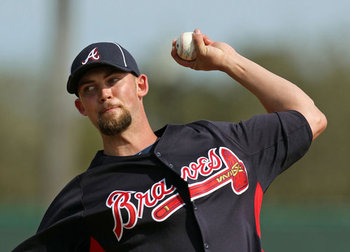 Starters:
MIL – Shaun Marcum: 7 IP, 3 H, 2 R, 2 BB, 6 K, 65 GSc (105 pitches, 65 strikes)
ATL – Mike Minor: 7.1 IP, 2 H, 1 R (0 ER), 1 BB, 4 K, 74 GSc (99 pitches, 67 strikes)
MIL Highlights:
Jonathan Lucroy: 1-3, 2B
Norichika Aoki: 1-1
ATL Highlights:

Juan Francisco: 1-2, 2B, BB
Jason Heyward: 1-3
Thoughts:
— The Brewer offense was shut down for most of the game, thanks to what is going to look like Mike Minor's best start of the year. It's hard to know exactly what went on in between the mound and the batter's box tonight, but Milwaukee's bats seemed helpless tonight. As you can see from the plot, Minor certainly threw some hittable pitches, and wasn't that sharp with command, though he was the beneficiary of some liberal strike calls, some of them late in at-bats. Whether you chalk it up to good pitching, bad hitting, good defense, or all three, Minor simply had his way with the Brewer lineup today.
— Even worse, Minor's dominance spoiled a very, very good outing by Shaun Marcum, who allowed just two runs in seven frames. Marcum's only blemish was the second inning, when he allowed two runs on a walk, single (and subsequent throwing error by Ryan Braun) by Jason Heyward, and a Juan Francisco double. Despite the loss, this was the kind of Marcum start Brewer fans became accustomed to during the first half of last year, and will hopefully continue to see as long as his employers refrain from pushing him too hard.
— Surprisingly, the Brewers were able to mount a late-inning charge against the vaunted Braves bullpen. In the eighth, the club got one hit off Minor and two off Jonny Venters, cutting the lead to 2-1 before the inning ended on a Rickie Weeks strikeout. (Ironically, the two lefty hitters the Brewers sent up that inning were responsible for the two hits against Venters, a southpaw.)
In the ninth, the Brewers loaded the bases with one out against right-handed closer Craig Kimbrel. Righty hitter Jonathan Lucroy was due up, but Ron Roenicke elected to pinch-hit George Kottaras, a left-handed hitter who has recently been on a Hart-esque tear as a pinch-hitter. At the time, this seemed like a decision that figured to not make much of a difference on paper: Kottaras had been hitting well and had the platoon advantage, but Lucroy seemed like a better option for putting the ball in play and hoping something good happens, which is was probably needed at the time. (However, Lucroy would also be more likely, percentage-wise, to ground into a double play.) Alas, Kottaras struck out, as did Mat Gamel, and the Brewers were handed another tough loss.
Because of the move to pinch-hit Kottaras when there was no pressing need to, a lot of people are putting the blame for the loss on Roenicke's shoulders. Twitter can be a bizzare, angry place after a tough loss, but this still seems overblown: To me, there is little evidence that one option would be strongly better or worse than the other in that situation, and that Roenicke, like last night, is taking excess flak for the backfiring of a move that wasn't especially controversial. Roenicke probably is guilty of overmanaging that last inning, but not costing his club the game.