(Photo: John Autey/St. Paul Pioneer Press)
If you're in Minneapolis this weekend to see the Milwaukee Brewers take on the border-rival Minnesota Twins, you may be wondering what you
should do in Minneapolis in between games. Look no further than this concise list of three cool attractions to check out.
1. The Foshay Tower Museum and
Observation Deck
The Foshay used to be the tallest building in Minneapolis, and it's still striking due to its art-deco look and contrast to the more modern skyscrapers. The museum and lookout deck will run you $8 for adults and $5 for kids, but it's well worth it to examine artifacts from the building's history and take in amazing views of Minneapolis and the surrounding area. You can clearly see Target Field from here, and miles beyond. It's located on Marquette Avenue near 8th Street, downtown, less than a mile from Target Field. Go to the desk at the W Hotel on Marquette and you'll be given a key to use for an elevator ride skyward.
2. Fulton Brewery and Tap Room
Fulton Brewery recently opened their new tap room, which exhibits strong staples like Sweet Child of Vine IPA, along with limited-run brews. The tap room is a cool place to hang out and enjoy a beer or two before the Brewers-Twins game, and they feature food trucks for a bite to eat. Tours are offered on Saturdays, first come, first served. The brewery is only about two blocks from Target Field.
3. Minneapolis Sculpture Garden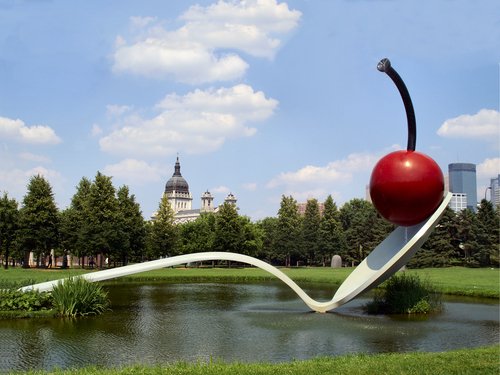 The Sculpture Garden is an iconic 11-acre area devoted to art and expression, and is a great place to take a walk. The garden features many interesting and contemplative works, and is linked to Loring Park by a handy pedestrian bridge. The garden is run by the nearby Walker Art Center and the Minneapolis Parks and Recreations Board. One of the features is the large spoon with a cherry on top, a symbol of the city of Minneapolis. It's located less than two miles from Target Field.
Go Brewers!