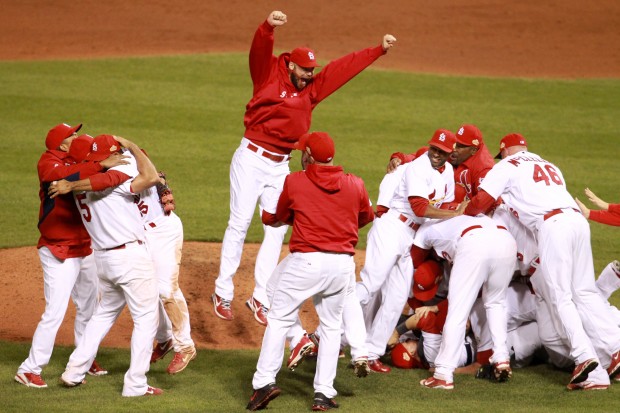 In case you haven't been paying attention over the last week or so (or have just given up and started following the Packers again), the Brewers have finally heated up. After a season that started out bad and had gotten progressively worse as the club lost regulars to injuries and trades while the bullpen crisis has failed to resolve itself, the club has begun to turn it around in the last two weeks – even after a tough loss today, the Brewers have still won their last four series and 11 of their last 14. At the start of that stretch, the Crew was 12.5 games out of the Wild Card, a deficit they have since reduced to 6.5. This fact, combined with a recent wave of optimism and memories of the 2011 Cardinals, has led many fans to wonder if a playoff run is still plausible for the Brewers.
The answer is "not really". The Brewers have gone on a nice run recently, and it even seems to be the product of good play rather than luck – their Pythagorean record over the last 13 games is the same as their actual one. However, in order to vault themselves back into playoff contention, Milwaukee would have to go on an unprecedented tear that is, by all indications, beyond the scope of anything they have done this season. With 28 games left, the race for the NL Wild Card currently looks like this:
| Tm | W | L | W-L% | GB |
| --- | --- | --- | --- | --- |
| ATL | 75 | 59 | .560 | — |
| STL | 72 | 62 | .537 | — |
| LAD | 72 | 63 | .533 | 0.5 |
| PIT | 70 | 63 | .526 | 1.5 |
| ARI | 66 | 69 | .489 | 6.5 |
| MIL | 65 | 68 | .489 | 6.5 |
| NYM | 64 | 70 | .478 | 8.0 |
| PHI | 64 | 70 | .478 | 8.0 |
Provided by Baseball-Reference.com: View Original Table
Generated 9/3/2012.
If we assume that each of the six teams in front of Milwaukee continue to win games at their current pace for the rest of the year, the Brewers would still need to go 22-6 from here on out just to force a one-game playoff for the second wild card. Remember the incredible run the 2011 Brewers went on in August? They went 21-7 over that time, and last year's team was a vastly superior squad who also happened to enjoy some individual hot streaks and good luck. Even if the Brewers continue to play as well as they have been (that is, significantly better than they have played at any point this year), several other teams would likely have to have lackluster Septembers in order for them to have even a fighting chance.
Granted, that's exactly what happened last year: The Cardinals, who were 8.5 games back with a month to go, were able to make up for it by going 18-8 over the season's final month while the Braves went 9-18. But, there's a reason that the Crew's playoff odds (according to Baseball Prospectus) are less than 0.5%: The 2012 Brewers are not the 2011 Cardinals, and the 2012 Cardinals are not the 2011 Braves.
For one, the 2011 Cardinals that overcame an 8.5 game deficit in September had a significantly different roster than the team that played .500 ball for most of the season. Over the trading deadline, they added shortstop Rafael Furcal, righty starter Edwin Jackson, and relievers Octavio Dotel and Mark Rzepczynski, who combined for nearly 2 WAR over the season's final two months. The Brewers have lost multiple regulars this year due to injury (and starter Mark Rogers to an innings limit), and their only significant move has been to trade ace Zack Greinke to the Angels.
The dissimilarities don't stop there: The Cardinals had only one team ahead of them, while the Brewers have four. The Cardinals faced more teams that were either in last place, resting their starters, or in the midst of a collapse (referring to the Pirates here) than the Brewers will. None of the teams ahead of the Brewers are currently dealing with any of the things – such as nagging starting pitcher injuries or months of reliever abuse – that exacerbated the Braves' downfall. All of these circumstances were critical to the Cardinals' comeback, and none of them apply to this year's Brewers.
If that isn't enough, I decided to go straight to the source, consulting the good folks at Bloguin's own Cards Diaspora. Managing Editor Aaron Hooks was nice enough to pen a guest column of sorts, pointing out:
a.) The Cardinals' 2011 comeback just isn't going to happen to the 2012 Brewers.
b.) That's probably a good thing.
(Warning: Adult language is used throughout, so hide the children – not that you should let them read Cardinals blogs anyway.)
The 2011 Cardinals comeback may have been the worst thing to happen to
St. Louis baseball in a long, long time.
Worse than Chris Carpenter's nerve impingement. Worse than the Houston
roadkill moving to the American League. Worse than Albert Pujols
chasing the almighty dollar.
Why?
Because it's given validation to the a huge number of idiots.
Hey, buddy it's OK. The Cards are alright. 9 games back? We still got
a whole month left! No worries, we did it in 2011!
NO.
WORRY!
2011 was a once in a fucking lifetime comeback, paired with another
team that spit the bit. HARD. That is NOT happening again.
Is your retirement plan to buy lottery tickets? Do you show up at
games and hope strangers will give you a ticket? Do you sit at the bar
and wait for chicks to take you home?
Fuck and no you don't. Why? Because it's a stupid, stupid strategy.
Brewers fans, and I sincerely mean this, you DON'T want to make the
playoffs in 2012.
Because if you do, the front office is validated and the movement
towards sustainable and substantial change is going to be cockblocked.
No one is going to evaluate this season fairly.
Were the Brewers underachievers that came on strong late to meet their
full potential in September? A team that got hot late, but really
isn't all that good? Somewhere in between?
The Cardinals won the World Series, yes. (PS: It's awesome. You should
try it sometime soon) But they also then brought Back Lance Berkman,
counted on Chris Carpenter and extended Rafael Furcal. And now they're
10 games out of the NL Central. Probably should be more.
The significant turnover of a roster was retarded by the magic of
2011. And now they're right back where they were in 2011 to start
September: frustrated, breaking down and clinging on to hope.
Yes, the dual Wild Card system helps your chances at a rise from the dead.
But as much as you think you want this, you don't. It'll create an
army of dipshits that will never hold the team accountable, because…
LOOK WHAT HAPPENED IN 2012!
Spare yourselves.

On a lighter note, when is Braun going to start serving that
suspension, anyway? #MVPee
Thanks to Aaron for his insight. Even though, for some reason, he omitted the fact that Braun's current OPS is two points higher than last year, he made some excellent points that we can all learn from. I know it's fun to think that this kind of stuff could happen, but let's at least wait for the bullpen to successfully protect a two-run lead before getting excited.