We're a week into Spring Training and we have a decent sample size to start looking at the roster and pitching staff for the Brewers.  Each week I'll be taking a look at my three up and three down based on the week and overall performance through Spring Training.  It's a bit strange thinking that for the most part the roster itself is pretty much set, but the battles for final spots on the roster and pitching staff are heated for sure.  
I'll be giving you three for each of the position players and pitchers over the next few weeks, so let's dive right in, shall we?
Position Players:
Three Up: 
1. CF Logan Schafer – This is an absolutely stacked outfield and Schafer probably doesn't make the roster because of the needs in the infield, but he's sure stating his case for a bench spot with his .538 batting average (7-13) and 1.638 OPS.  He's got 5 multi-base hits (71% of his hits so far) including 2 triples.  It's hard to imagine starting off any hotter for someone trying to push his way on to the roster.  
2. C Jonathan Lucroy – He's been even more on fire offensively than Schaffer with a .571 batting average and a 1.571 OPS.  Lucroy has 3 doubles, a HR, and 2 RBI's and it hopefully will carry over to the regular season because that's one heck of a dangerous hitter in front of the pitching spot if he does stay hot.  
3. 1B Mat Gamel – You have probably heard about his exploits already this summer and he'd be higher on the list, but he wasn't nearly as consistent as Lucory and Schaffer at the plate.  He leads the Brewers with 3 home runs and 7 RBI's.  That start does include an o.k. .278 batting average, but I consider it one heck of a good sign that he's hitting for power while still maintaining a decent batting average.  He's also been pretty good at 1st base where he's still got a 1.000 fielding percentage and hasn't committed an error yet.
Three Down: 
1.  SS/Utility Cesar Izturis – Ron Roenicke has made it clear that Izturis will be on the roster because he is a true utility player, but he hasn't exactly set the world on fire.  He's played in 8 games with 4 of them as starts and has committed 4 errors, most at shortstop.  Additionally he's yet to be a part of a double play.  Offensively he's been o.k., which is fine for a utility player.  Izturis is hitting .267 with a triple and 2RBI's to his credit.  But if the defense doesn't get better there could be an issue with putting him in to the starting lineup very often. 
2.  CF Nyjer Morgan – It's supposed to be a platoon between Carlos Gomez and Morgan, but if Nyjer produces the awful numbers he's shown so far in the regular season offensively I don't know if you can trust him enough to really platoon him much.  Morgan is hitting just .143 and amazingly 1 of his just 2 hits was for a home run, also giving him the lone RBI of the Spring so far.  His play in the field has been very good so that helps his cause, but let's hope for our offense's stake that this is just early season jitters and he snaps out of the funk before the season starts for real.  
3 TIE. Pick a backup catcher – George Kottaras is probably locked into the backup catchers role for better or worse and after just over a week it's been disastrous for him and just about all the other backup catchers behind Jonathan Lucroy.  The main 2 backups, Kottaras and Martin Moldanado, both are hitting just .100 and are a combined 2 for 20.  Add in the other two that are in camp (Arlis, and De La Rosa) and it's just 4 for 24.  Luckily Lucroy is quickly becoming more of an every day option, but still that kind of offensive production is a bit worrisome. 
3 TIE. 3B Aramis Ramirez – He's supposed to be the guy that combines with Mat Gamel to help pick up the dropoff in offensive firepower from the loss of Prince Fielder.  I'd be o.k. if we were still waiting on a HR from Ramirez and we are, but it's because we are also waiting for a hit of any kind from him.  He's 0 for 11 through the first week or so and hopefully that hit monkey gets off his back soon, otherwise we could see a guy that's really scrambling entering the regular season.
Pitchers: 
Three Up: 
1. Yovani Gallardo – The frontrunner for starting on opening day is really helping his case.  He's made two starts already and has pitched 5.1 innings of scoreless baseball.  He's only given up 4 hits and 1 walk while also striking out 6 batters.  Opponents are only batting just .211.  It's hard to imagine a much better start for the ace of this staff.
2. Marco Estrada – He's become a reliable long reliever for the Brewers and he's appeared in 3 games, making 1 start so far this spring.  In total he's pitched 6 innings and given up just 4 hits while holding opponents scoreless.  Additionally he's got an ERA of just 0.00, yep, he hasn't given up a run.  
3. Tyler Thornburg – The 2010 3rd Rounder is making his case to make the roster at least in a bullpen capacity early on.  He's pitched 3 innings over 2 games and has a 0.00 ERA.  He has given up 3 hits and 3 runs, but they were all unearned over one outing that lasted just two-thirds of an inning and caused by a bad defense behind him, so I'm giving him a pass.  It's good to know we have another option or two to consider for the bullpen should someone go down with an injury or start not to pitch up to expectations.
Three Down: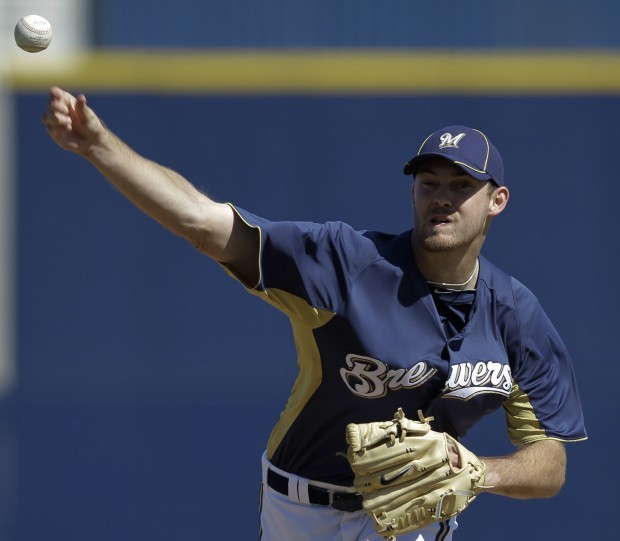 1. Taylor Jungmann – It may be a bit unfair to have him this high, but it's clear that he's not ready for the big time just yet.  In his 2 games he's got a 13.50 ERA and has allowed 5 runs (4 earned) and is allowing hitters to bat .333 against him.  Not exactly a great start to things.  
2. Wily Peralta – He's supposed to be the best pitching prospect in this organization but he's not exactly off to a flying start.  Through 4.1 innings pitched he's given up 6 runs, all earned, and has a 12.46 ERA.  Batters are hitting at an o.k. .278 clip and he's got a 2.08 WHIP, the highest of anyone that's started a game so far this spring.
3. Michael Fiers – Talk about a bad week, he pitched 3 innings and has an 18.00 ERA after allowing 6 earned runs on 8 hits.  Opposing batters are hitting at a .471 clip against him.  Amazingly he hasn't taken a loss in his 3 apperances, but he has yet to help stop the bleeding in a few of the apperances he's made.  
I hope you've enjoyed this look at what has happened so far this Spring Training and encourage you to discuss by leaving a comment.  
Don't forget to follow us on Twitter and Facebook.  I'll also throw this out there for all you Badger fans… Join our sister site MadTown Badgers and their NCAA Bracket Challenge via ESPN as they are playing for MTB gear and a bragging rights post on the site.  Good luck if you are one of those filling out a bracket this year!!