There weren't many positives for the Brewers in Sunday's loss to the Giants, but one of those few bright spots was a highlight-reel grab by Ryan Braun in left field.  Braun robbed Cody Ross of what would have been a leadoff home run, and honestly, after watching Braun mistime so many jumps this year, I could spend all day watching the replay in disbelief.
Braun is, by all measures, a terrible defender.  Check the metrics, use the eye test, do whatever you want to do, but you can't deny that he's simply not very good.  Part of what makes him so frustrating to watch is that he clearly has the tools to do well out there.  He has a pretty strong arm, but can't seem to throw straight.  He has incredible athleticism (as seen in that catch), but often takes such horrible routes that he has no chance of making a play.
Sunday was a perfect storm of Braun putting that athleticism to use and actually getting a good read on the ball.  Take a look at some of the screen grabs:
(Read More)
This is when the camera cuts from Ross swinging to the outfield camera.  Look at how far away from the eventual catch Braun starts (click to enlarge any of these).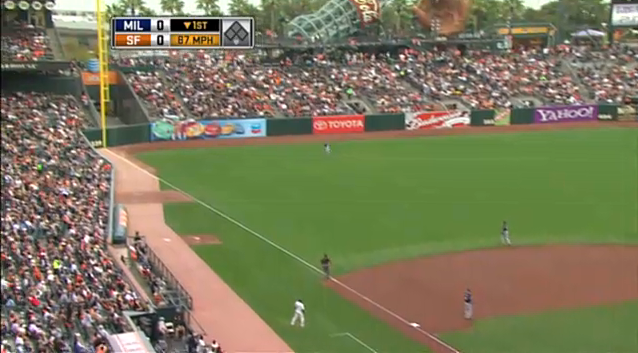 Just a couple seconds later, Braun is at the warning track. That's speed and acceleration there, folks.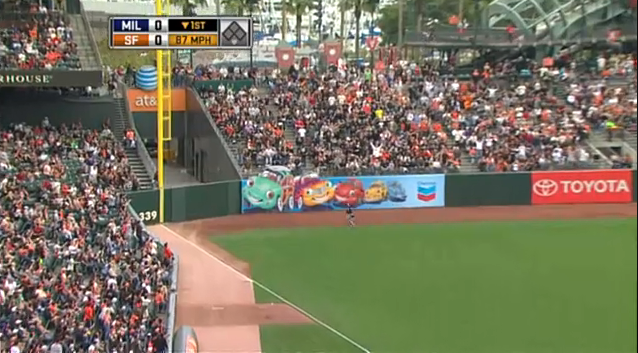 For once, Braun times his jump perfectly. He's just short of full extension here, but gives himself enough time to reach over the wall (and check out the idiot trying to reach for the ball).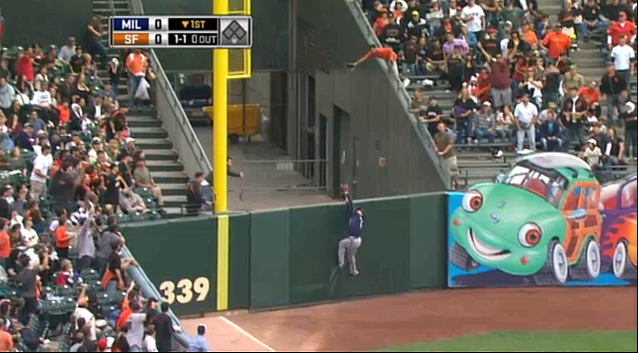 The ball disappears from this angle, but Braun makes the catch at full extension: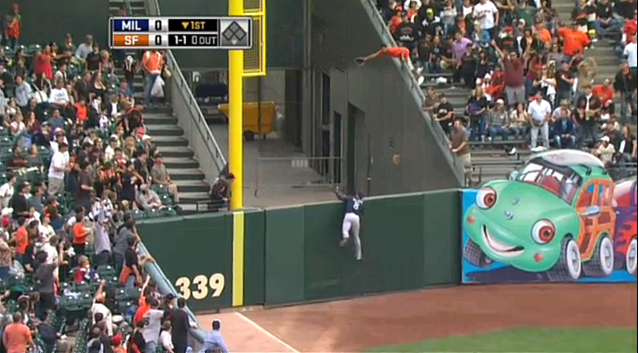 Braun brings it back, but I'm not convinced he totally had control of it until he comes back to the ground.  You can see the ball trying to sneak out of the glove in this screen cap.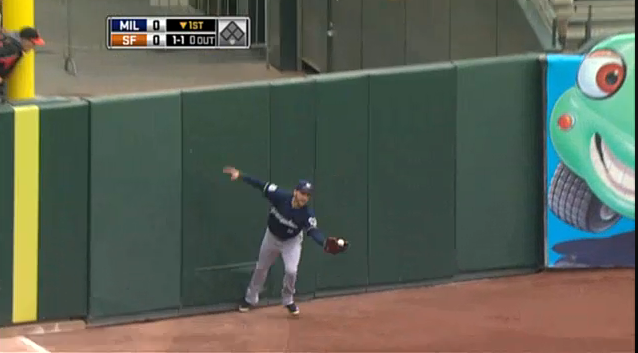 To really appreciate the catch, though, you have to see the reverse angle.  You can see just how close this was to being a home run — Braun literally catches it at the edge of his webbing.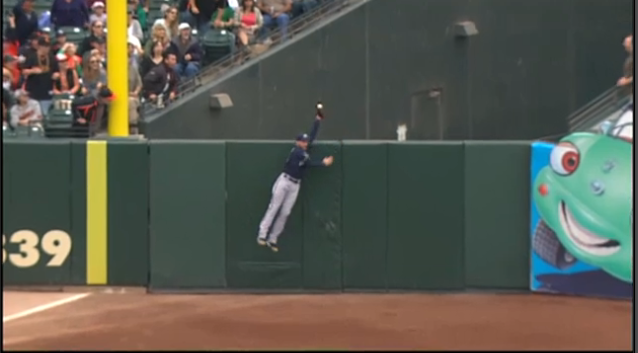 This was an incredible play by Braun, but like his catch in this year's All-Star Game, it doesn't make him a good defender.  Knowing he has this ability in him is what makes it so tough to watch when he takes a bad route, mistimes a jump or a dive, or makes an errant throw.  It'd be great to see this from him on a more consistent basis, but if we've learned anything over the past few years of him playing left field, I wouldn't count on it.