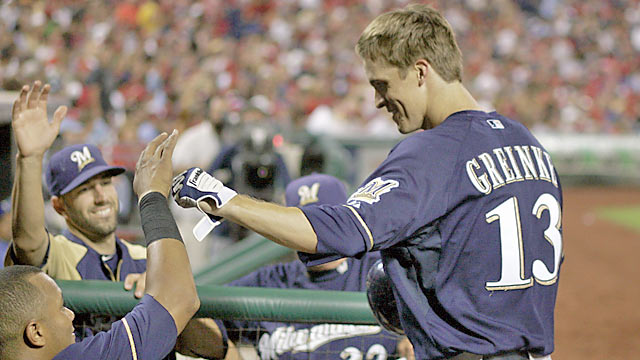 If last night really was Zack Greinke's final start as a Milwaukee Brewer, it was a game I certainly will never forget.
I say that in part because the bullpen failed epically we, as Brewer fans, have rarely seen a pitcher of this caliber suit up for our beloved team, and it may be quite some time before we do again. Most fans are well acquainted with his truly outstanding 2009, Cy Young-winning campaign, when Greinke put together one of the best seasons by an AL pitcher in decades. Still, many of his critics point to this as not just an aberration, but an aberration amongst a career of just "above average" seasons.
This is totally false, of course. All one needs to do is look at the steadily low walk rates and the eye popping strikeout rates to see that Greinke, since re-establishing himself as a full-time starter in 2008, is one of the league's best starting pitchers. Forget his 3.83 ERA in 2011, addled by poor infield defense and a fluke home run rate. Forget his 10-14 final year in KC, when he was accused of "not caring" while maintaining his typical low walk rates on a floundering team. There are only a handful of pitchers who you can legitimately say have pitched better over the past five seasons, all but one of which Greinke spent on losing teams.
My official position for the past several months on Greinke has been that Doug Melvin should stretch payroll for an extension, because he is that good. As the season went on, Greinke only priced himself further out of the team's range and was aided by a drastic climb in market price for right-handed pitching, thanks to Matt Cain (and Cole Hamels' 6 year/$144 MM extension, announced today). Many speculated in early spring that a Jered Weaver-type offer of 5 years, $85 MM could have gotten the job done (signed last fall, a contract that looked good even then). I imagine this was a starting point when Melvin began negotiations with Greinke's agent, Casey Close. But talks appeared to shut down mere days after we first caught wind that they'd begun.
I wonder what caused such slow action on Melvin's part this time. In recent years, he and Mark Attanasio have proven themselves willing to offer extensions and negotiating during the season to core players who had trade rumors swirling around them (Hart in 8/10), to core players entering into prime arbitration years (Gallardo in 4/10, Weeks in 2/11), and even players already under long-term contracts (Braun in 4/11). With Greinke, the team took an approach similar to what they used with Prince Fielder. Melvin has seemed conceited for a while that Greinke would test free agency, and the organization did not have the money to convince him not to. Not coincidentally, Greinke had also just hired Close soon before extension talks reportedly began, after going nearly all of 2011 without an agent.
Did either of these two factors preclude Melvin from beginning extension talks earlier? Did inability to sign Prince Fielder after 2009 discourage them? Did either or both of the sides refused to negotiate without an agent? If any of these are true, it's most unfortunate for the Brewers and their fans. From what we can tell, the discussion began mere days before Cain signed his record contract, essentially driving Greinke out of Milwaukee's price range. It's easy to say now, but an affordable extension probably would have gotten done during the 2011 season, at any point. Given the prospect haul the organization gave up for Greinke months before, it's pretty disappointing that Melvin was not immediately trying to lock Greinke up once he donned a Brewer uniform. After trading the farm for him, why wouldn't Melvin have done so?
One can argue that offering market-rate extensions, especially to veterans, is a high risk for small market teams: it rarely happens and I understand why. But for every huge, potentially crippling contract (see Votto, Joey) there are team-friendly, brilliant contracts (Braun, Evan Longoria) that went to players with little to no big league experience. Look to Tampa Bay, where Andrew Friedman has built a club that has vastly lower attendance than Milwaukee into what is universally regarded as one of the league's top organizations. Matt Moore was locked up after 9.1 innings and one postseason start; Longoria after just 6 games. You tell me what's more risky: extending a proven, All-Star caliber player, or baseball's top prospect with miniscule big league experience. Small market teams have to take these risks of this magnitude to compete.
Instead, we as a fanbase are enjoying (or have enjoyed) the swansong of one of the best pitchers in franchise history, wistfully pondering how he could have been retained. Like we have done, so many times before with some outstanding players who we still root for as they entertain other fanbases in other cities. Like Brian Anderson said after the latest bullpen meltdown, the beat goes on.