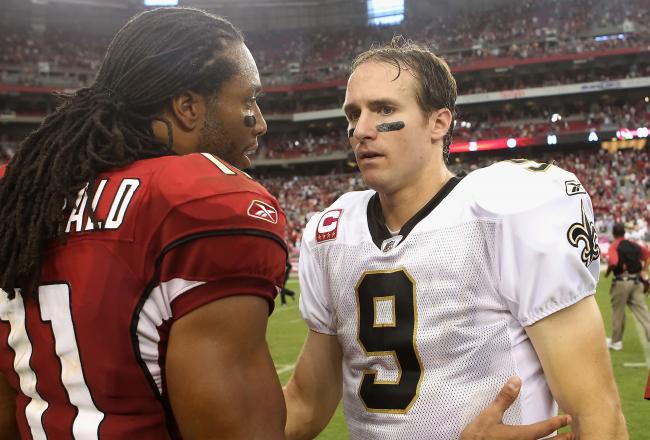 Your pregame is back!!! Our weekly series during game weekends is finally being brought back to you. I'm travelling to Canton today for the big day so be sure to follow me on twitter to check out my updates and pictures. I'm fortunate enough to have VIP treatment, sideline passes and the opportunity to meet people throughout the weekend (my dad met Morten Andersen, Dick Vermeil, Roger Goodell – YUCK, and Kevin Mawae yesterday). To get you in the mood for tomorrow's actual game, here are 5 things I'm looking for:
1. How does Johnny Patrick do as a starter?
You can almost guarantee the Cardinals will target Patrick when they pass with Jabari Greer out and Patrick Robinson questionable. Marquis Johnson and Corey White will play a lot, too, so I'm sure those guys may be targeted even more. But Patrick is a guy that is supposed to be the Saints' #3 and will play frequently all season long. I'm happy that Patrick is facing the starters so that I can see how he does against stiff competition. He may even line up against Larry Fitzgerald early, which could get ugly. None of us are sure if Patrick is truly ready to be the full time nickel so this will help us know.
2. Who performs better in the kicking competition?
Garrett Hartley and John Kasay are both in an absolute dead heat, with Kasay arguably performing slightly better so far in camp. Hartley has the benefit of a younger age and a long term contract, so the Saints probably secretly hope Hartley wins the battle. Still, it's one of the most compelling battles in camp and how they do in live games could decide who makes the roster. Of course, we also can't rule out the Saints keeping both at least early on.
3. How is the Saints' rookie class?
Nick Toon will miss the game with an injury, and Akiem Hicks has literally been out in pads for a day. If Hicks plays at all, I imagine it won't be much and it'll be late in the 4th. Corey White, Andrew Tiller and Marcel Jones will likely see lots of playing time, though, especially in the 2nd half. I'm looking forward to seeing how they handle their first game and if they avoid major mistakes.
4. Who will be the new player fans fall in love with?
Every year there is a preseason hero we've never heard of. Sometimes they pan out – like Chris Ivory, Pierre Thomas. Sometimes they struggle to live up to the promise, like Adrian Arrington or Joe Morgan. I'm curious to see who comes out of nowhere to have a big game and makes us sing his praise as the next superstar of the Saints. Please God let it be a defensive guy for a change. My pick on the podcast with Ralph Malbrough was explosive edge backer/DE Kadarron Anderson. I believe Grandmaster Wang refers to this player that creates random buzz as the preseason Onome Ojo recipient. Jim Haslett used to drool over Ojo's potential, and he never caught a pass in his 1 year NFL career.
5. Do the Saints avoid an injury to a key player?
This might be one of my five picks for every single preseason game. The bottom line is it's just reps with live tackling and THE GAME DOES NOT MATTER. I could care less if the Saints win or lose. My only interest is that the Saints make it out of these games alive. So the main thing I'm rooting for in this game is no serious injuries, especially to key players.