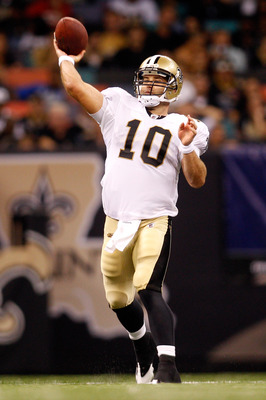 After two preseason games and some roster changes, I figured it was time for me to take another stab at the 53 man roster. Here goes…
QB (2) Drew Brees, Chase Daniel
WR (6) Marques Colston, Lance Moore, Devery Henderson, Courtney Roby, Andy Tanner, Joe Morgan
RB (4) Mark Ingram, Pierre Thomas, Darren Sproles, Chris Ivory
FB (1) Jed Collins
TE (3) Jimmy Graham, David Thomas, Daniel Graham
T (3) Jermon Bushrod, Zach Strief, Charles Brown
G (3) Jahri Evans, Ben Grubbs, Matt Tennant
C (2) Brian de la Puente, Eric Olsen
DE (5) Will Smith, Cameron Jordan, Junior Galette, Turk McBride, Martez Wilson
DT (5) Brodrick Bunkley, Sedrick Ellis, Tom Johnson, Akiem Hicks, Tyrunn Walker
OLB (5) David Hawthorne, Scott Shanle, Jonathan Casillas, Will Herring, Chris Chamberlain
MLB (1) Curtis Lofton
CB (6) Jabari Greer, Patrick Robinson, Johnny Patrick, Marquis Johnson, Corey White, Elbert Mack
FS (2) Malcolm Jenkins, Isa Abdul-Quddus
SS (2) Roman Harper, Jonathon Amaya
K (1) Garrett Hartley
P (1) Thomas Morstead
LS (1) Justin Drescher
Here are notable guys that I think won't make it:
Adrian Arrington (IR), Nick Toon (IR), Michel Higgins (PS), Marcel Jones (PS), Travaris Cadet (PS), John Kasay (cut), Korey Hall (cut), Remi Ayodele (cut). That said, all of these guys still have a very legitimate shot of making the team.
The biggest surprises above, I think, are Mack, Tanner, Morgan, Daniel Graham, Olsen and Tyrunn Walker who are all bubble players. I just have this feeling the Saints may hang on to Walker. Don't rule out Lawrence Wilson, either, who has played well enough to merit being in the discussion. Of course injuries and play will dictate things further so this is subject to daily change.
Any guys you see making the final 53 that I didn't list above?