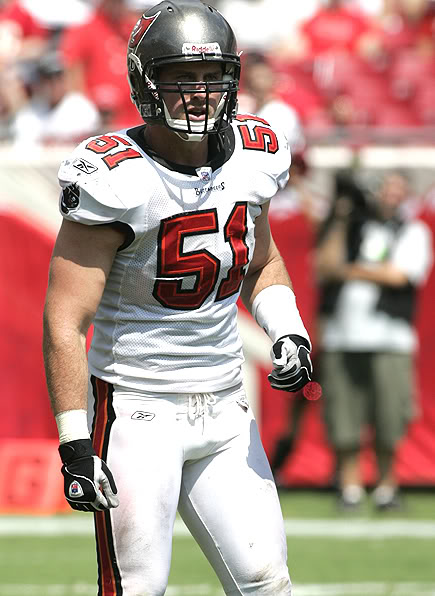 The Saints made a very notable pickup last night trading for veteran linebacker and long time Buc Barrett Ruud in exchange for an undisclosed draft pick sent to the Seattle Seahawks. Odds are, the Seahawks were planning to release Ruud anyway, so a low draft pick beats no return for them. Ruud played 9 games for the Titans last season notching 57 tackles. He's a versatile linebacker that can play all three positions (though primarily middle linebacker), so his presence is clearly in an effort to make up for the loss of Chris Chamberlain. Right now the Saints are hurting at linebacker because Curtis Lofton has suffered a high ankle sprain and David Hawthorne just had meniscus surgery. The Saints are hoping both players will be ready by week 1 but there are no assurances with either. With Chamberlain gone for the season, Ramon Humber was next in line to start at middle linebacker but he's scheduled to miss the first three games of the season himself for violating the league's substance abuse policy. Ruud steps into a very injured and thin position out of nowhere. Some have criticized Ruud's durability, but from 2005 to 2010 he missed 1 game as a Buccaneer.
Ruud is 29 and he's past his prime, though it's probably unfair to say he's completely washed up at this point. He has scored very poorly the past couple of seasons in the Pro Football Focus grading system. In 2011, Ruud was rated
48th out of 51 graded inside linebackers. In 2010 he was 49th out of 50. In 2009 he was a respectable 29th out of 54, and in 2008 he was 10th out of 46. So according to PFF he's gone from good in 2008 to decent in 2009, to practically the worst interior linebacker in football in 2010/2011. The big question is whether or not he can bounce back. Given the fact that the Seahawks just traded him for a low draft pick, my guess is he's not showing much these days.
Ruud adds depth at a place the Saints sorely need it, but make no mistake here, he is not being brought in to start. The Saints are counting on Hawthorne, Lofton and Shanle for that. Hopefully the first two will be back by week one. Ruud is a likely mediocre stopgap player who in his prime was solid. If the Saints need him for numerous games they are in serious trouble, but he can fill in and help in a pinch. There is a chance he'll be needed to play extensively for a week or two until Lofton and Hawthorne can come back to full strength.
Ruud is a good locker room guy and a guy that plays hard, but the reality is his abilities are limited at this point. While the pick up is fine for depth, the Saints can't afford to get to a point where they are relying on Ruud every down. Expect this defense to take a serious nosedive under Spagnuolo if Ruud gets extended reps. My gut says he's in New Orleans strictly as insurance and let's hope it stays that way.