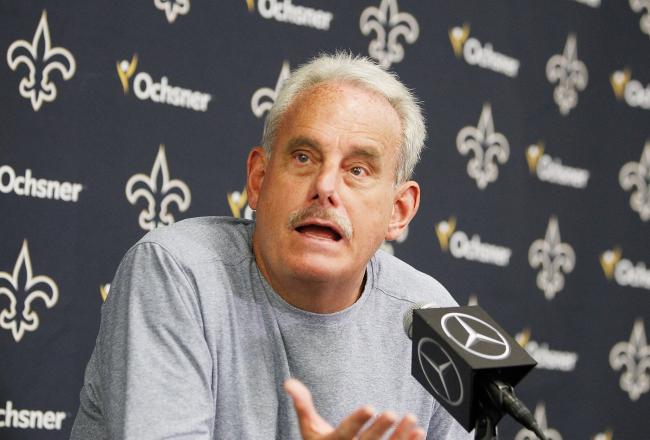 I know I told you all it was time to move on, but with the plethora of news continually pouring out on a daily basis on "bountygate", and with the lack of any other real Saints related news, what else am I going to write about? My main issue with the "evidence" presented continues to be the ridiculous amount of fluff, after the fact exhibits, and useless table scraps combined with just a few explosive pieces. Why would the NFL not just present the real tangible stuff they have? I honestly feel like the NFL would make a stronger case for themselves if they just presented the ~4 tangible items they have and leave all the other nonsensical stuff out, as I mentioned on my podcast spot with Georgia Sports Craze this week.
A perfect example of the waters being muddied is…
Joe Vitt vehemently denying the claims made that he put $5000 on Brett Favre's head. Vitt went as far as to offer to sign a legal affidavit and take a lie detector test to prove his innocence from this accusation. The thing is, the NFL has already acknowledged that never accused Vitt of this because they didn't have the evidence to support it. So basically, the NFL had unreliable evidence by their own admission that was good enough to share with the media (and by extension the public) but not good enough to punish Joe Vitt? To me that just reeks of unprofessionalism. And let's not forget the NFL's claims that they had "emails from Mike Ornstein to Sean Payton" – which turned out to be a forward that came from numerous channels before it got to Payton (a convenient detail the NFL left out) as well as the gross distortion of their interpretation of an interview with Anthony Hargrove when it was leaked to the press. The NFL has been extremely shady in the way they've handled this and it's their fault the legitimacy of this case has been called into question. They have not handled this on the up and up – period.
If you're curious, the two exhibits the NFL submitted as their evidence is now available… (exhibits 1-12 HERE, exhibits 13-16 HERE). If you read through all of it (which I don't recommend), so much of it is completely irrelevant to this case and barely understandable. Why would the NFL even bother including some of this stuff? Some exhibits merely include the times of team meetings and reminder to players to hydrate for crying out loud. What useful purpose did their inclusion have, except to water down their accustations? Two other items that were included as "evidence" was Sean Pamphilon's May 31st rant of "Kill the Head and the Body Will Die" and a June 6th article by Mike Tripplett of the Times-Picayune interviewing Scott Shanle. Those two dates, again, were May 31st and June 6th. The player suspensions were made on May 2nd. So the NFL added to their "evidence" pile two items that never went into the decision to suspend these players in the first place. To me, that screams that they were never that confident in the "evidence" they had and they were desperate to add anything and everything that could help strengthen it. It's been very clear to me the NFL's approach has been a shaky "let's throw everything we get at the wall and see what sticks".
So to save you from reading through those exhibits and give you what I interpret at least partially makes the NFL's case is the following below. Before I share this, I want to make it clear that what I'm talking about here is a PAY TO INJURE program. We know the PAY FOR PERFORMANCE program existed. The exhibits prove it, the players have admitted it, the coaches have admitted it. Let's be sure, once again, we understand the important distinction between what is ADMITTED, the pay for performance program, and what is being ACCUSED and DENIED by the Saints, the pay to injure program. Ok here we go:
The Gregg Williams audio, of course. It doesn't prove the Saints players took him literally, but there is audio of Williams directing his players to injure opposing players.
Payments listed for "Cart-Off" and "Whack". Those terms have suspicious names, but do we really know what they mean exactly? We do know Roman Harper is listed as having one "Cart-Off", but no opposing player was literally carted off in that game – so there is clearly room for explanation there.
A list of defensive players with a statistical category called "kills to the head". Again, what does that mean? We can't be completely sure, but it sounds suspicious.
A picture of Dog the Bounty Hunter in a team slide with a quote "collect bounty$$$"
For the Minnesota game, it says "Vilma — $10,000 QB", "QB Grant – $10,000", "QB Ornstein, $10,000", "Vitt – $5000 QB Out" – although if the NFL has already admitted the Vitt portion of this isn't reliable, I don't see how anything on this specific page can be accepted as reliable.
That's basically it. Everything else in these exhibits is useless clutter. To me, the most damning part of all of this is the "collect bounty$$$". It's hard to deny the existence of a "bounty" program when that is written in plain English on a team slide. But again, I don't understand why the NFL didn't just present these five items and nothing else – it would have made for a stronger case.