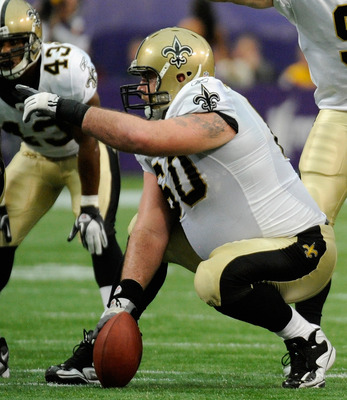 Saints' exclusive rights free agent Brian de la Puente has re-signed and while that's not earth shattering news by any stretch I think most of us feel a sigh of relief that Saints related news coming this week, for once, is positive. De la Puente is the incumbent starter at center and he came from nowhere to do an admirable job manning the middle position of the line. De la Puente not only beat out veteran Olin Kreutz, who was performing miserably, but he also beat the heir in waiting Matt Tennant who was specifically drafted to take over that position. De la Puente's deal is one year for $540,000 and his signature wraps up the only remaining exclusive rights free agent on the roster (LS Justin Drescher, WR Adrian Arrington and S Jonathon Amaya were the others).
The potential loss of Carl Nicks looming…
made de la Puente's return even more necessary, and after further inspection I remembered that de la Puente's original position was indeed guard. Could he be the starting left guard for the Saints next season if Carl Nicks leaves in free agency? It's entirely possible as Matt Tennant is a guy who is a natural center and probably fits that position better than guard. While there's no doubt veteran competition would be brought in to compete with the guys and nothing is given, especially to Tennant, don't be surprised if de la Puente ends up destined to replace Nicks. Big shoes to fill…
None the less he was a very pleasant surprise a year ago and it's great to have him back. WHO DAT.