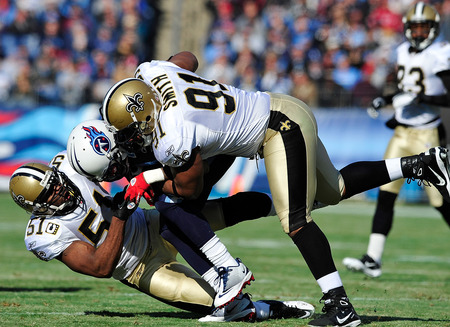 The scary thing about how bad the Saints' defense has been the last two years is the looming fear that it's two most vocal leaders and players of most value, Will Smith and Jonathan Vilma, could be gone. It's not being talked about because Drew Brees' contract is completely consuming the media/fans and rightfully so. But the Saints are going to be tight up against the cap once Brees is re-signed and the Saints attempt to retain both Carl Nicks and Marques Colston. It seems most people out there are slowly coming to terms with the idea that one of two, between Nicks and Colston, could easily not return to the Saints. If the Saints have any shot of keeping all three though (Brees/Nicks/Colston) it's going to take money to pull it off. Even if one leaves, revamping the roster will come at a cost and the money that would be freed up by releasing both Smith and Vilma is substantial. The other and perhaps more palatable option is whether the Saints can restructure their two contracts to free up space, which would keep them in New Orleans. Lastly, they could just keep paying the two vets' contracts, but I have to admit I'd be surprised if that happened.
Will Smith is scheduled to make…
$7 million this season, plus a $1 million dollar roster bonus due on 3/27. We should find out before 3/27 if the Saints decide to release him to avoid that roster bonus $1 million, or if they attempt to re-structure his deal. Smith is also due $9 million in 2013 and $10.4 million in a voidable 2014. As he seems to be a declining player at this point, I can't imagine the Saints are prepared to pay him $9 million in 2013, so even if they do pay his roster bonus on 3/27 and don't touch his contract this season, you have to figure this is going to come up again 12 months later.
Jonathan Vilma is coming off a brutal year which saw him miss some games and play well below his usual ability due to a knee injury. At this point the big question is whether or not he can bounce back to play like he did in his prime, or is his recent decline the beginning of the end? Vilma is scheduled to make a more reasonable $5.4 million in 2012 and $5.9 million in 2013, but the Saints are tight on money this year and they're possibly looking to shave costs wherever they can.
Make no mistake, Vilma and Smith are both huge parts of the team and losing them would be a huge blow. Not only are they fantastic football players when their bodies are right, they're also captains and they've created the soul and fabric of the locker room. Missing those two personalities on the roster would be as difficult as it is stupid. But, at the end of the day, the NFL is a business and you could definitely argue that at this point in their careers they are not performing to the level of their contracts. As much as their defense has struggled, those two have been integral. And the main reason for the unit's struggles, to be honest, are due at least in part to them both struggling with injuries in the last few years that have prevented them from performing at their peak level.
So we'll need to see if the Saints are committed to keeping both if they are willing to re-work their deals to ease up on the Saints' possible forthcoming cap issues. I believe they will be. So the next question is whether or not Smith and Vilma are open to making less to remain in black and gold. These guys are prideful players with Pro Bowl resumes, so while I have no doubt they are fully committed to the Saints, I have no idea how they'll feel about attempts to re-work their respective contracts. But be forewarned, this is a big danger this offseason and there is a risk the Saints will tackle 2012 without either player on the roster. I hope to keep both, but it will take much work to ensure that, and their contract situation should at the very least be a big concern to all Saints fans that undoubtedly want to see them back.