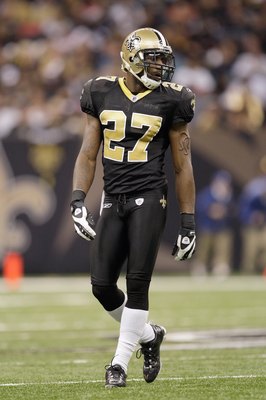 The day Malcolm Jenkins was drafted by the New Orleans Saints out of the 1st round he came with very high expectations. He was rated the best defensive back of his class and the Saints were ecstatic that he dropped to them. At the time Jenkins was a cornerback and the Saints dispelled any rumors he possibly projected as a free safety. Of course, the Saints felt pretty good about Darren Sharper as their starter back then. 2009 ended up being a decent season for Jenkins as a reserve corner that saw him play well as a nickelback and notch one interception. In 2010, the Saints made the move to free safety official, as Jenkins replaced Darren Sharper. Sharper would sit out the first half of 2010 with a bum knee, and return for the second half as a shell of his former self. Upon his return, Jenkins saw more time at corner – but was platooned at safety. Last year was Jenkins' first full year at safety, one that was supposed to yield his breakout season. Instead, it was a major regression and disaster type season for Jenkins. He ended the year with no interceptions, (after 2 in 2010) and more drops than you could ever imagine.
Jenkins' struggles at the safety position thus far have been for a number of reasons. The adjustment to learning a new position, the mentality as the last line of defense to go for a tackle or big hit instead of the ball, poor hands, a scheme that often dropped him 20 yards or more behind the line of scrimmage, and a poor pass rush. The 2009 version of the Saints, the one that featured Darren Sharper notching 9 interceptions, had the luxury of a 35 sack season. Since Jenkins has been a free safety, the Saints notched 33 sacks in both 2011 and 2012. That may sound similar, but the Saints generated much more pressure in the latter to years with blitzing, leaving Jenkins out to dry. In 2009 the Saints got 13.5 sacks from Will Smith, 5.5 from Charles Grant and 5 from Anthony Hargrove. The front four did a tremedous job of getting pressure, and the Saints blitzed less as a result. By 2010 and 2011, the d-line was so poor getting to the quarterback – Gregg Williams resolved to blitz whenever possible. That left the free safety less "free" to roam, instead committed to playing in deep center field as the last line of defense in an attempt to avoid disaster. 2010's d-line pressure was poor (6 sacks for Ellis, 5.5 for Will Smith, then 4 for Vilma and 3 for Harper) but 2011 was arguably worse (Roman Harper led the team with 7.5 sacks. The best d-lineman was Will Smith as 6.5).
Steve Spagnolo's scheme, a bit like Gregg Williams', is still at the mercy of the players within it performing well. I've come up with some historical numbers of his past defenses, but it's important to realize the Saints don't have Justin Tuck, Michael Straham, Chris Long or Osi Umenyiora in their prime on the team. Still, consider these front four sack outputs by Spag run defenses:
In Steve Spagnuolo's 5 years as a defensive coordinator or head coach, the defensive line owned about 70% of the team's total sacks. In 2010 and 2011 for the Saints, the d-line owned 62% and 50% of the team's sacks respectively. By comparison, a Spags lead defense has only dropped below 65% in 5 seasons once.
Part of that is having more explosive edge rushers, for sure, but part of that is a commitment to put pressure with the front four. That allows linebackers or safeties to help in coverage, which will help Jenkins have more liberty back there as oppose to a specific assignment when you're always in zero blitz. Still, while the new scheme will theoretically give him more chances, it won't improve Jenkins' playmaking ability, it won't improve his hands, and it won't improve his ability to close on the ball. Improving those things are all on him.
This is a big year for Malcolm Jenkins. There's been talk of star potential, but he needs to turn the corner this season if that's ever going to happen.