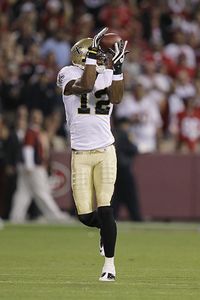 While Carl Nicks has publicly shouted from the rooftops of New Orleans that he's as good as gone based on the lack of communication he's had with the Saints' brass, Marques Colston has been the exact oppposite, approaching free agency as a complete enigma. We've gotten some mixed signals on Colston's return, but most have been negative. Still, it's hard to know what he's thinking because he hasn't said one word to the media. The first story that came out speculated that Colston wouldn't be giving the Saints any kind of hometown discount. Then, based on the money he was potentially commanding, it was theorized that the Saints would have a very hard time affording him. More recently Adam Schefter of ESPN said, via his twitter account, that Marques Colston didn't seem likely to return to the Saints at all. So based on these reports that's got to leave you feeling pretty pressimistic as a Saints fan, right?
Well this nugget of information got dropped in the news in the last week:
teams are wary of Marques Colston's ability to be productive in a different offense. Based on that, he may not get the money he's hoping for and a possible return to New Orleans can't be ruled out if his cost becomes more manageable. Granted that article, while giving us a glimmer of hope he'll return, ends with the statement that Colston isn't expecting back in New Orleans (while using incorrect grammar to do so). So the entirety of that article brings us all up before crushing our hopes again in one final sentence. But this gets back to my point that there's been a whole lot of hearsay and nothing truly tangible to go on. True to form, Marques Colston is keeping his mouth shut and letting others do the talking while he focuses on the task at hand.
All we can do as fans is hope his silence means he's at the very least not furious with the franchise. But this latest news is something that's at least moderately encouraging, because it suggests the Saints may actually value Colston higher than other NFL teams. If that's true, hometown discount or not, the Saints stand with a decent shot at getting him back. Of course Colston has been in the habit of proving people wrong as a receiver from Hofstra and a 7th round pick for his entire career, so I also don't doubt that part of him would love to prove he can be effective in another NFL offense. I have zero doubt that he could and would if that opportunity came about.
This period leading up to free agency has been extremely quiet for Colston. Part of that is due to the Saints dealing with Drew Brees and Carl Nicks, both proclaimed by almost all as more important parts of the offense. Part of that could also be due to the bounty scandal which has monopolized the local media news. But much of it is also Marques Colston being a ridiculously underrated receiver. He always has been. Despite putting up elite numbers every single season he's been in the league, his quiet demeanor makes him far from a household name. Before long Colston will let his soon to be contract do the talking because he's never been big on opening his mouth. I just hope he stays quiet in a Saints uniform.