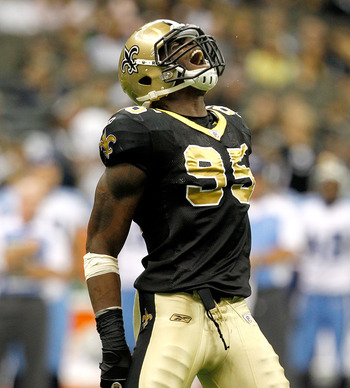 3rd Round draft choice Martez Wilson was a promising rookie a year ago, but he mostly made his mark on pass rushing downs while blitzing from the linebacker position. The Saints liked his ability to get to the quarterback so much, in fact, they're apparently thinking about making the move to switch Wilson from linebacker to defensive end. Wilson apparently worked exclusively at right defensive end at the OTA's yesterday. In 13 games last year, mostly on special teams with one start, Wilson finished with 10 tackles and a sack. He also had a huge game against the 49ers in the playoffs, posting 1.5 sacks in that game along with a forced fumble.
The idea of him playing defensive end is one I like.
At 6'4″, 252lbs he's a little lean but he can add bulk to his frame, and there is no question he's got the length and explosiveness to be dangerous off the edge. You think Junior Galette is fast off the edge? Wilson smokes him. His ability as a linebacker makes him an attractive piece at defensive end, too, because he can tackle soundly and he can cover a little. The big question is whether he can absorb a big edge blocker or tackle on every down. That kind of wear and tear is something not every player is built for, and you have to question with his frame if he can handle that. Still, based on his speed being his major asset, you have to figure he's a situational player, so perhaps the physical stress of run support situations will be kept to a minimum. And in this day and age teams run the ball less and less, so run stuffing defensive ends like Cam Jordan are less useful, and getting to the quarterback comes at a premium. With the depth the Saints now have at linebacker, too, after signing David Hawthorne, Curtis Lofton, and Chris Chamberlain, it suggests end may be the easiest way to land Wilson a roster spot. Don't forget the Saints also return Vilma (barring suspension for a year), Shanle, Herring, Bussey, and Casillas among others. The depth there allows them to play around with Wilson and see if his freakish athleticism can be used elsewhere.
Right now the starting ends are Cam Jordan and Will Smith, who is facing a four game suspension. Behind them there's Junior Galette, Turk McBride and Greg Romeus, followed by a number of no name youngsters that are unproven. With Smith likely to miss the first four games, that leaves a guy that missed the entirety of last year (Romeus), a guy so banged up he missed half the season (McBride), a guy that had one sack despite playing in all 16 games (Jordan) and a guy that only came in for pass rushing situations (Galette). While all those guys are capable football players, it's not a 4 man rotation you necessarily feel great about. So adding Wilson to the mix helps depth without taking much away from the linebacking core. That can only be seen as a positive.
For the stat geeks out there, interesting to note that Martez Wilson was graded by PFF as the second best pass rusher on the team last season. He received a +1.5 score for the year, only behind Junior Galette (+5.0). By comparison, Cam Jordan finished the year with a -6.1 score, and Turk McBride and Will Smith both rated at -0.9.
Do you like the move? How do you see Wilson panning out at defensive end?