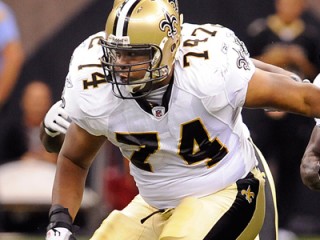 The one place where play was alarming to me in the 49ers game was at offensive tackle. The amount of pressure the 49ers got off the edge in straight up one on one isolated pass rushes was disconcerting. Jon Stinchcomb's play in particular was very poor, and he's since been released, but Zach Strief, Jermon Bushrod and Charles Brown among others looked very spotty out there as well. I truly feel like it's the Saints one question mark going into 2012. The Saints obviously feel the same way because they brought in a slew of veterans in hopes of bolstering their depth. The only problem is Alex Barron can't get on the field, George Foster has yet to impress, and Jordan Black looks like a backup. Those three guys all have 6 years or more of NFL experience, so clearly the Saints brought them all in in hopes at least one could shoot new life into their NFL career. So far they've come up empty with those low risk veteran pickups.
When the Saints play the Houston Texans on Saturday…
that's the one area I'll be watching extremely close. Zach Strief is now the anointed starter at right tackle and I'm curious how he'll perform with extended reps against the Texans' tough defensive line. To me, Strief represents an upgrade over Stinchcomb on running plays thanks to his ridiculous size and strength, but Strief's lateral quickness is a liability compared to Stinchcomb in his prime. For that reason, I'm a little concerned about his pass protection against speedier edge rusher. I'm also still not entirely comfortable with Jermon Bushrod. He was/is the Saints best option at left tackle, and thankfully he's still a promising player that's improving. Still, make no mistake, Bushrod has been the weak link of the line the last two years, and they've designed a lot of blocking schemes weighed towards his side to help him out. This year Bushrod may have to handle the responsibility of being put on an island more often with Goodwin and Stinchcomb gone, and that scares me. The Saints are also counting on Olin Kreutz living up to his career, when we all know the reality is he's in the twilight of it. Hopefully he can still play at a reputable level.
While the Saints have the best guard tandem in the NFL, hands down, there's more question marks around them as ever. I'm less worried about Kreutz because he's a proven player when healthy, and he's got those two guys on either side of him. Bushrod and Strief, however, are not the ideal tackle tandem you want to count on by any means. I'm not saying I don't like either player and I'm hopeful they can each turn in a successful season, but right now the Saints are so strong and deep at each position, offensive tackle is clearly the one place that I'm not sold on yet.