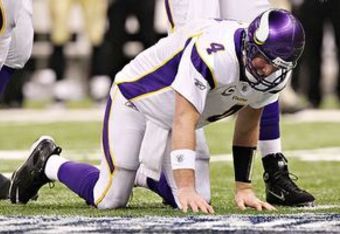 A bombshell was dropped on the city of New Orleans yesterday. Just days after Saints General Manager Mickey Loomis is speculated to have uttered perhaps one of the greatest faux-pas ever by the leading member of an NFL front office came the news that the Saints defense participated in a bounty system. The extensive, exhaustive investigation into the Saints bounty system which found that then New Orleans Saints defensive coordinator Gregg Williams paid players to knock key members of the opposition out of the game uncovered another dirty little secret of the NFL. It's one that taints the Saints 2009 Super Bowl championship, the coaches and players involved, and the sport itself.
In 2009, the height of the bounty system and, coincidentally, the year the Saints won the Super Bowl for the first time in franchise history, up to 22 to 27 members of the Saints defense were paid cash rewards for hurting opponents — up to a $1,000 for a knockout, $1,500 for a cart-off with payments increasing during the playoffs. There was even an instance in the 2010 NFC Championship Game where Saints linebacker Jonathan Vilma allegedly offered $10,000 to anyone that would knock Minnesota Vikings QB Brett Favre out of the game.
Since the report was published, Favre has gone on record in a discussion with Peter King of SI saying that "I'm not pissed. It's football," he told Sports Illustrated's Peter King. "I don't think anything less of those guys. Said or unsaid, guys do it anyway. If they can drill you and get you out, they will."
Kurt Warner, who the Saints played the game prior to the NFC Championship Game, recently said in an interview with KTAR radio that "It's definitely disappointing, but I won't say that I'm completely surprised and, again, not necessarily the Saints, but I'm not surprised that there were teams out there doing those kinds of things behind closed doors."
Both quarterbacks were pummeled with clean hits when facing the Saints but despite Favre and Warner's understanding, it's a bad time to be on the wrong side of a player safety issue in the NFL. The New England Patriots were heavily fined for Spygate – $500,000 to head coach Bill Belichick, $250,000 to the Patriots organization. Expect much more to be hammered down on the Saints. Roger Goodell will look to make the Saints organization and former coach Gregg Williams examples in his judgment ruling which will come down sometime in March after the league meeting. A loss of draft picks (this and next year), heavy fines (more than what the Patriots were levied), possible player and coach suspensions, and possible the firing of Saints personnel could all be expected during the aftermath.
Williams stands the most to lose as the bounty program extended to the Saints from his time as the defensive coordinator of the Washington Redskins. He was also defensive coordinator during the Tennessee Titans Super Bowl run in the late 1990s for a team that was widely believed to be dirty as well. It's reprehensible. It's repulsive. It's a disgrace. And it's an epidemic.
In a revealing article written for the Chicago Tribune, seven year NFL veteran Matt Bowen commented on his time playing for Williams in Washington and the bounty system in the NFL.
On playing for Williams, Bowen stated that "It's hard not to play for a coach like Gregg Williams. Williams, my defensive coordinator while I was with the Washington Redskins. Williams is an excellent motivator. You do what he wants: play tough, push the envelope and carry a swagger that every opponent sees on tape. When you lined up against us, you knew we were coming after you. It was our gig, our plan, our way to motivate, to extra-motivate." Bowen continued that "I don't regret any part of it [bounty system]. I can't. Williams is the best coach I ever played for in my years in the NFL, a true teacher who developed me as a player. I believed in him. I still do. That will never change.Your career exists in a short window, one that starts closing the moment it opens. If making a play to impress a coach or win a game pushes that window up an inch before it slams back down on your fingers, then you do what has to be done. "
What Bowen wrote corroborates a story written in 2008 where the Baltimore Ravens supposedly put a bounty out on Pittsburgh Steelers wide receiver Hines Ward. That story mentions the 2006 Ravens/Saints game where Ravens linebacker Bart Scott purposely tweaked Saints running back Reggie Bush's ankle causing him to leave the game with an ankle injury not to return. The video has since been removed but Scott's words remain for what happened between him and Bush.
"The media darling, aka the golden boy of the NFL, tried to take a cheap shot at me, so I told him I was going to put some extra on it," Scott said after the game. "He must be used to playing against these guys in practice. He can do all those shakes he wants, but I wasn't going anywhere. I put a little hot sauce on the ankle."
In 2007 it was Pro Bowl linebacker Shawne Merriman on the receiving end of what he considered to be a bounty on his head put there by Titans head coach Jeff Fisher. The release yesterday caused Merriman to go on twitter and ask why the bounty system is such a big deal now. He suffered a torn PCL and LCL at the hands of two Titans offensive linemen because of the bounty, according to Merriman.
Gregg Williams is now on Jeff Fisher's staff in St. Louis.
Players like Dick Butkus, Lawrence Taylor, and "Mean" Joe Greene made their reputation and the Hall of Fame for their ferocity and effectiveness on defense. The Steel Curtain, Purple People Eaters, Orange Crush, and Dome Patrol are defenses etched into the history of the NFL for their relentlessness and suffocating styles. Fans enjoy seeing players get "jacked up". One of ESPN's most popular segments is called that. Big hits are part of the NFL culture. To change that mind set is to change the culture of the NFL. In effect that is what Roger Goodell is trying to do by imposing fines on players that level unnecessarily rough hits on players – defenseless or not.
Dave Duerson's suicide opened the eyes of many people on player safety in the NFL. The impact of a body collision is akin to being in a car wreck. The impact caused to the brain by a running back lowering his helmet into an oncoming defender or a defensive lineman smashing his helmet into an opposing player causes enough head trauma over the long-term to significantly increase the chances of causing a serious health condition called chronic traumatic encephalopathy.
That health concern, combined with the fact that one of the main issues during this year's NFL lockout was better medical coverage for retired players, will be why Goodell will likely be merciless in his punishment to the Saints. It's a tragic ending for one of the feel good stories in the NFL – a downtrodden franchise that found redemption through a discarded player (Drew Brees), overcame all odds by defeating three Hall of Fame quarterbacks to win the Super Bowl, only to have it crumbled by one of the largest NFL scandals in history.
For a city seeped in voodoo, it's almost fitting. Almost. The Saints will suffer Goodell's wrath. For Who Dats everywhere the only hope is that the punishment doesn't eviscerate the Saints competitiveness.