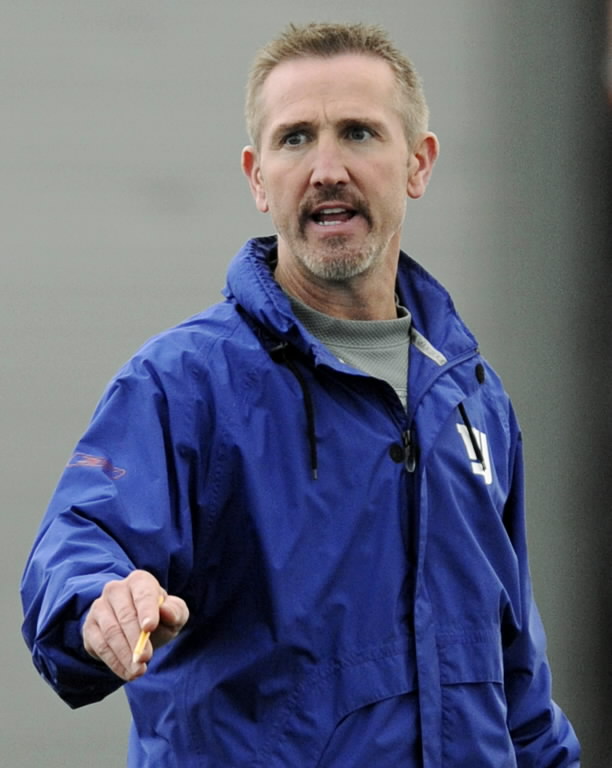 If you could pick the most embarrassing of the Saints' four defeats this past season, the loss in St. Louis to the Rams would win by a landslide. The Rams were able to limit what the Saints did offensively like almost no other team this season. While that's a compliment to the way the Rams played that day, particularly defensively, the embarrassment factor is an endictment against the positively miserable job they did as a team this year directed by Steve Spagnuolo. Spagnuolo was fired very recently ago on the heels of a 2-14 season and he's immediately become a very hot commodity on the open market. Since his firing, he's received interest in the form of defensive coordinator opportunities for the Saints, Colts, Falcons (who just hired Mike Nolan instead) and Eagles, among others. His interview with the Saints is scheduled for today. Why is a 2-14 coach so hotly pursued? Well, his track record prior to this season is an excellent one.
Spagnuolo was a widely respected assistant coach for the Eagles (linebacker coach) prior to getting his big break when he landed the defensive coordinator job for the Giants. His first season heading up their defense, he led them to the 7th best ranking in the entire league. His second year, they improved to 5th and most notably won the Super Bowl by stopping the previously 18-0 New England Patriots' historic offense at the time. Can a coordinator's resume get any better than that? Of course not. So while the iron was hot on the heels of a Super Bowl title, he ran to the Rams for his first head coaching stint. He went 1-15 his first season with no talent, improved greatly to 7-9 the following season despite directing another poor squad, but reverted back to 2-14 this season… hence his firing. 10 wins in 3 seasons is far from impressive, and with defense being his calling card the Rams finished 29th in total defense in 2009, 19th in 2010 and 22nd this year overall.
How does he fit in with the Saints? Well, he is known for running a 4-3 scheme that includes a blitz heavy package. For better or for worse, he comes with a similar approach and style to Gregg Williams. He's definitely had some success as a coordinator, he's widely respected as a very good defensive mind, but that doesn't mean he's a sure fire success.
New Signings: The Saints announced "futures contracts" for the following players, which means they'll get an opportunity to compete in training camp next year – DT Mitch King, WR Andy Tanner, RB Chris Taylor, T Phil Trautwein, T Fenuki Topou, QB Sean Canfield, DB Cord Parks, G Nick Howell, DB Josh Victorian.