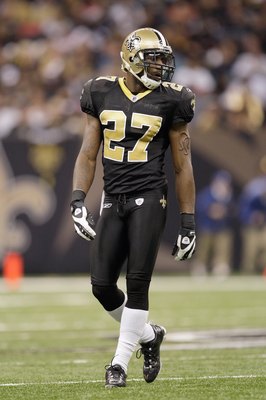 The title of this post says it all, so let's cut right to the chase. In the Sean Payton era, below are the defensive players that have been drafted by the Saints:
Roman Harper (2006) 2nd round SS – Entering 7th season with the Saints, most as a starter. Should be considered a good player with some significant weaknesses in coverage.
Rob Ninkovich (2006) 5th round DE/LB – Also a 7 year pro that only lasted 1 year in New Orleans. Found a home in New England and has been a 4 year starter that's blossomed in their system.
Josh Lay (2006) 6th round CB – Lasted about a year on a couple NFL teams and now plays Arena Football.
Usama Young (2007) 3rd round FS – Was a reserve for 4 years with Saints and is now a reserve for Browns.
David Jones (2007) 5th round CB – Has played for four teams mostly as a backup. Did get some playing time with the Bengals. Now a free agent.
Marvin Mitchell (2007) 7th round LB – Currently a reserve on the Minnesota Vikings. Has played for three teams mostly as a reserve.
Sedrick Ellis (2008) 1st round DT – 5th year starter for Saints that had three very promising seasons as a young player and has regressed significantly since then. In contract year.
Tracy Porter (2008) 2nd round CB – Injury history but played well at times when healthy. Has been a starter or nickel corner consistently. Left the Saints this offseason and starts for the Broncons.
DeMario Pressley (2008) 5th round DT – Has played as a reserve for 6 NFL teams. Currently on Bears' IR.
Malcolm Jenkins (2009) 1st round CB – Moved to safety where he is now struggling as a starter. Has yet to live up to hype.
Chip Vaughn (2009) 4th round S – Never made an in season NFL roster, battled injuries and is currently a free agent.
Stanley Arnoux (2009) 4th round LB – Reserve linebacker that had numerous injury problems. Currently a free agent.
Patrick Robinson (2010) 1st round CB – A starter this year and has played very poorly in the first two games after a decent season last year.
Al Woods (2010) 4th round DT – Released his rookie season. Has already played for 4 teams and is a reserve for the Steelers.
Cam Jordan (2011) 1st round DE – A starter that is terrific against the run and a liability in passing situations.
Martez Wilson (2011) 3rd round LB – Moved to DE where he has yet to get playing time. A reserve with promise.
Johnny Patrick (2011) 3rd round CB – Has been injured almost entire time with team. Hoping to return this week as a backup.
Greg Romeus (2011) 7th round DE – Spending his second straight season on IR.
Nate Bussey (2011) 7th round LB – Released during preseason. Currently a free agent.
Akiem Hicks (2012) 3rd round DT – Has promise but is current a backup vying for playing time.
Corey White (2012) 5th round CB – Started his first game as a rookie but performance has largely been a disaster so far.
So in the Sean Payton era, the Saints have drafted 21 defensive players. Of those, only 10 are still on the team if you count Greg Romeus who is on IR. If you don't count Romeus, only 9 of the 20 players Sean Payton has drafted are still on the roster. By this time next year, there is a good chance that number could be cut in half. As good as the Saints have been at recognizing talent on offense and cultivating it, they've been the opposite on defense. At first I wondered if the Saints were just bad at developing talent? But it's not like other teams have turned them into stars either, as only Rob Ninkovich can be deemed a success story elsewhere (the jury is still out on Tracy Porter with the Broncos, though he's off to a good start). And of the 8 guys they've kept you can point to numerous defects. With Harper it's coverage, with Jenkins it's speed, with Jordan is pass rushing, with Ellis it's a severe drop off in production… you get the idea. If you look at this entire list, not one can be deemed a "star" despite four of them being drafted in the first round. I believe the real problem is talent evaluation.
By comparison, the Saints still have 12 of the 19 offensive players they drafted in this same period. That includes Reggie Bush, Carl Nicks and Robert Meachem no longer being on the team, despite being successful starters elsewhere, and borderline stars. It also inlcudes Matt Tennant, who was just cut, Sean Canfield, who keeps hanging around, and Adrian Arrington who was on the team as recently as within a week. Colston, Jahri Evans and Graham can be labelled without question as stars. Many are still works in progress, and some are solid contributors like Strief and Ingram. At best, the best defenders the Saints have drafted (Harper/Jenkins/Robinson/Ellis) are in Strief territory in terms of value and production, and a far drop off from the Bush/Nicks/Meachem/Colston/Evans/Graham camp (Meachem arguably being a possible exception).
So as I continue to watch this porous defense get toasted, I can't help but think this is on the Saints' organization for their inability to recognize talent in the draft. Sure, getting Vilma was nice, Greer has been great, and I loved their pickups of Bunkley and Lofton this offseason… but I'm talking about their ability to recognize talent at the collegiate level. That's how you build the foundation of your team.
So at what point is one of these guys going to turn out to be really good? Still waiting… and it's starting to show.