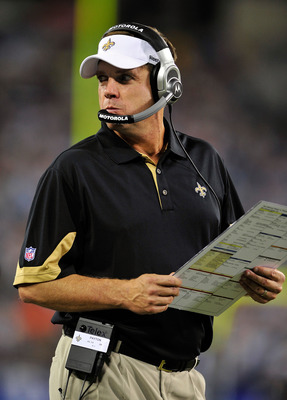 Ouch. So you've heard by now, the NFL dropped the bomb on the Saints and the penalties are severe. With the exception of the Sean Payton suspension, everything else was about what I expected, or maybe even less harsh. So I can live with all of it… except the year suspension of Sean Payton.
To recap, the penalties are as follows:
1. A one year ban for Sean Payton. Effective April 1st.
2. An indefinite suspension for Gregg Williams, who will have the opportunity for re-admission to the league in a year.
3. An 8 game suspension for Mickey Loomis that starts with week 1.
4. A $500,000 team fine.
5. The forfeiture of the 2012 2nd round draft choice, and the forfeiture of a 2nd round draft choice in 2013.
6. Suspension of assistant coach Joe Vitt for 6 games, plus a $100,000 fine for him.
My thoughts?
Bullshit. Donte Stallworth killed a man and got the same penalty, one year. Bill Belicheck got no games for spygate. Ron Artest didn't get as much of a suspension for running into the stands and punching a fan in the face.
As far as the picks, I was prepared for the Saints to lose 3 picks including the 1st rounder in 2013. The fact that they only lost 2 and keep that one is frankly much better than I feared.
I think it would be very foolish for the Saints to promote Spagnuolo to Head Coach. He's got enough to worry about with building the defense. Let him focus on that, and I say promote Pete Carmichael Jr. to Head Coach and let him call the plays. Carmichael knows the team's philosophy and he already had a trial run at that job last season.
This could be a death blow to the Saints. Payton is as valuable to the team as Brees. I hate to go this far but it could be the end of an era. And I find a year ban as totally excessive based on both the crime and who was more responsible for it. If you're going to punish the team head's then why wasn't Loomis' penalties stiffer than Payton's? Last time I checked, GM is a bigger title than head coach. Gregg Williams is the man responsible for this more so than Sean Payton. Anything more than 8 games for Sean Payton is totally uncalled for.
Anyway, this was much worse than I imagined. While the Saints came out relatively well in the draft pick department, it's going to be tough to improve the defense starting with a 3rd round pick this year. That, and not having Sean Payton around for a year. What I'm most worried about is you know Coach Payton will attempt to contact his team during the season, and if he gets caught it could easily get worse from here. The offseason from hell continues…