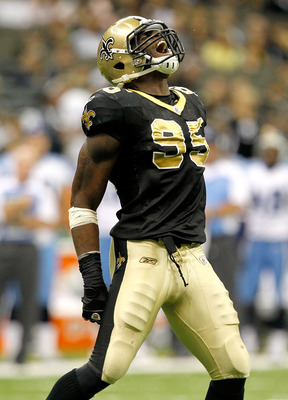 The move that sent Martez Wilson to the defensive end depth chart this offseason was an interesting one that made some sense, given how explosive he is off the edge in pass rushing situations. The big question with that move is whether or not Wilson can handle the edge blocking of a mammoth tackle with elite strength. That said, Wilson wasn't moved to DE with the idea in mind that he would play every down, absorb lots of contact from said massive tackles, and get his long and lean frame victimized on running downs. The idea was to add an explosive situational pass rusher that could make a difference in obvious passing situations. He'll be asked to avoid getting blocked and not absorb contact like Cam Jordan and Will Smith do so well.
With Romeus now on IR, here are the defensive ends on the Saints' roster:
Will Smith
Cam Jordan
Turk McBride
Junior Galette
Martez Wilson
Braylon Broughton
Tyrunn Walker (listed DL)
Kadarron Anderson (listed LB/DE)
and don't forget rookie Akiem Hicks who is listed as a DT but could get some time at end.
Will Smith will be suspended for the first four weeks of the season, pending appeal, and while I'm not ready to write off Broughton and Walker because you never know what no name player could impress in camp, it seems misguided to assume they'll make any kind of splash. Anderson has already been cut once this year by the Jets, so not getting my hopes up there. Ditto Akiem Hicks, who I think will spend the majority of this season learning the ropes because he is just too raw to see the field. So that means, on opening day, we're looking at McBride, Jordan and Galette as the main rotation guys. Not exactly the trio of edge rushers that installs any kind of fear in people, but they are all still quite capable. With Romeus now gone, enter Wilson. He's perhaps even more explosive than Galette, and he's now the 4th guy on the depth chart if you count Smith as suspended. He'll get reps, especially on passing downs, and he'll get an opportunity to showcase what he can do.
Don't rule out adding an end down the roads as cuts happen, either. The Saints without Romeus just got quite a bit more thin at defensive end depth, so that's both increased opportunity for Martez Wilson and decreased options for the Saints. Personally, I'm all for it. I love what I saw from Wilson last year and I'm eager to seen the youngster thrown into the fire.