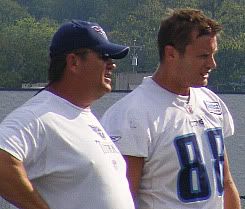 We continue our series of positional analyses with a look at the tight ends.
Third-year pro Craig Stevens is replacing Alge Crumpler as the inline blocker. Stevens certainly won't be the star among the Titans tight ends, but will, in my estimation, start more games and be on the field for more snaps than any of the others.
The reasoning behind that is pretty simple. Although Crumpler and Bo Scaife had a nearly identical number of plays in the past two seasons (1388 vs 1390 per Pro Football Focus), Crumpler started 29 times in 31 games for the Titans while Scaife started only 17 times in 30 games.
This merely means that Crumpler was on the field for the first offensive play of the game more often than Scaife. It also means that Stevens, as Crumpler's replacement, should do the same. I expect Stevens to start 14 or 15 games this year, as Crumpler did for two years.
As for the number of snaps, Stevens should take over nearly all of Crumpler's workload but Scaife's playing time should be reduced as Jared Cook becomes more involved in the offense. Cook, who can't block, will be taking more snaps away from Scaife than from Stevens.
Following is a closer look at the three, as well as the two other tight ends on the roster.
Bo Scaife
— After being franchised last year, Scaife will be playing on a one-year tender for this season. In 14 games last year (he missed weeks two and three with a knee injury), Scaife was third on the team in receptions and receiving first downs and fourth in receiving yards. He led the tight ends in all three categories. Since Scaife has a history of knee injuries (he blew out both knees in college) it was good to see last season's injury wasn't serious enough to prevent him from putting up the numbers he did after he returned to action.
Although he's regarded as a receiving TE, I believe Scaife has improved as a blocker over the years. While part of that is undoubtedly experience, I have to credit TEs coach John Zernhelt for much of Scaife's improvement as a blocker. Zernhelt, a former offensive lineman who has been with the Titans four years, has coached both TEs and the o-line in his 33-year coaching career.
As a blocker, will Scaife remind anyone of Erron Kinney? No way. Or Crumpler? Nope. No one will get him confused with Stevens either, but it's not like Scaife is totally devoid of blocking skills. He's a much better blocker than Cook, who can't block at all.
The biggest weakness in Scaife's game is his red zone ability. In five seasons, Scaife has totaled only eight receiving touchdowns and never had more than two in a single season. A red zone threat he is not. In contrast, Frank Wycheck had a career-high of six receiving TDs for a season and had three seasons with four TDs.
Jared Cook
— After being hampered with a high ankle sprain last year, Cook will hopefully begin to pay some dividends after the Titans invested a 2010 second-round draft pick for the right to select him in the third round of the 2009 draft. The area where he could step in and begin to pay some dividends is in the red zone, which he seems well suited to do. He'll have a height, size and reach advantage over any safety and most linebackers, which coupled with good hands could make him a potent weapon. 
How the Titans divvy up the playing time between Scaife and Cook remains to be seen but we should see a lot more of Cook this year than we did last. Also, it won't surprise me to see Mike Heimerdinger go with some four-wide, 2-WR 2-TE sets on occasion, which should be a lot more fun for us to watch than it will be for opponents to defend.
While Cook will be used in some 2-TE sets, don't expect to see him in many, if any, as an inline blocker. He's much more of a big slot receiver than anything else. Perhaps Zernhelt can eventually improve his blocking but Cook's main problem I saw in camp last year was a very high stance, which made him ineffective and virtually useless as a blocker.
Craig Stevens
— There are two reasons that stand out to me why Stevens is almost always referred to as a blocking TE. First, he's a very aggressive, physical blocker in the Kinney mold. Second, he's caught only one pass in two seasons.
That's not to say he can't catch the ball, just as you can't say Scaife can't block. It's just that the Titans haven't used him in that capacity. After watching Stevens in camp for two years, he's caught a lot more passes than you'd think and has shown decent hands. I expect that with his increased playing time, he could have double-digit receptions this year. Nothing spectacular, perhaps about 12 to 16 catches, or one per game.
One thing that bothers me is the two concussions he had last year. Those tend to have residual effects and I'm not sure how many he may have suffered prior to last season.
Stevens led the Titans with 11 special teams tackles last year but I don't expect to see him covering any kicks or punts this year.
Sean Ryan
— Paul Kuharsky
wrote
in his AFC South blog that Ryan amounts to insurance for Stevens. The scouting report from
Scouts Inc.
's Matt Williamson, included in Kuharsky's article, characterized Ryan as strictly a blocker with little to no value as a receiver. If the Titans are worried about Stevens' concussions, or if they would simply prefer not to depend on Scaife to replace him if necessary, I can see them keeping Ryan as a fourth TE this year. 
Steve Pfahler
— UDFA. Montana teammate of Brandon Fisher. Camp body.
Some general observations about the tight ends:
The Titans reportedly tried to re-sign Crumpler despite his age (he'll be 33 years old this season) but Alge supposedly felt he had a better chance for a ring in New England than in Tennessee. He's on the downside of his career and I can't say I blame the man for feeling that way.
I don't know how Pro Football Focus can be so confident about the number of snaps for every player on every team (they use the same shots we see on TV.) When watching film, I frequently have questions about at least one position on any given play. However, I do have an acceptable comfort level in the feeling that Crumpler and Scaife had a similar number of snaps.
Although he was the blocking TE and not regarded as a receiving TE, Crumpler was 
Football Outsiders
' highest
ranked
Titans TE last year, 32nd of 49 overall. Scaife was 39th.
I like Scaife for what he seems to be — a hard worker, good guy, no problems on or off the field — but I regard him as the most overpaid TE in the league. It would be nice to see him start earning all the big bucks he's been making.  
I will avoid Scaife on my fantasy teams this year but will consider Cook as a sleeper to keep an eye on as the season progresses. Especially if an injury sidelines Scaife, enabling Cook to get all the snaps as the receiving TE. As noted, he could become a potent red zone target.
Twelve tackles and no receptions seem like a rather odd stat combination for a tight end.
The Titans have kept four TEs on the roster before, including last year, so it wouldn't be a shocker if they did so again.
Stevens, Scaife and Cook should be regarded as locks to make the final 53-man roster for the season opener. I'll assess Ryan's chances as training camp progresses and especially as the final cutdown nears.