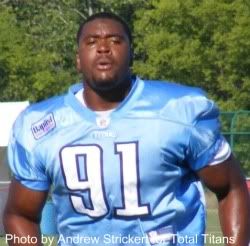 Jason Jones will anchor the Titans' d-line in 2011
We continue our series of positional analyses by taking a look at the defensive tackles. As I wrote several months ago in an earlier article, Six Positions the Titans Need to Upgrade in 2011, the Titans need to address the position during the offseason.
Since that article, the Titans have changed their head coach, defensive coordinator and defensive line coach. Also, GM Mike Reinfeldt indicated the Titans would change their scheme in regard to their defensive ends. How these changes will affect the defensive tackles remains to be seen but we should still consider DT to be a primary need for the Titans this offseason.
Here's what the situation looks like now, and why the position is in need of an upgrade, after the jump.
The top three:
Jason Jones, when healthy, is the best DT the Titans have. JJ played at a very high level in the first half of the season but was slowed by shoulder and knee problems in the second half. I thought Jones was the Titans' best player last year and wrote in December that he was deserving of Pro Bowl consideration. The main thing I like about him is his pass rush. The main problem I see with JJ is his apparent inability to stay healthy for a full season. Jones has one year remaining on his rookie contract and I'd like to see the Titans re-sign him to a new deal after a new CBA is in place.
Tony Brown, the veteran leader of the d-line, was their best player in 2009 before knee injuries slowed him down. Touchdown Tony had knee surgery last summer and missed nearly all of training camp. He didn't display his former ability and was on the injury report every week last year until he was placed on Injured Reserve. Despite his knee problems, the Titans re-signed Brown to a three-year contract last summer, so he could be around through 2012. Hopefully, he'll be fully recovered and able to play well again next season but I'm not going to hold my breath.
Sen'Derrick Marks hasn't fulfilled his potential as a second-round draft pick and will be entering his third NFL season. Marks didn't contribute much at all in his rookie season and was another DT hampered by injuries last year. He had knee problems early last season, then finished up the year with a bum ankle, which was rolled up on by a Houston Texan in Week 12. Marks needs to step up this year and show why he was worthy of being a second-round draft pick, especially if JJ and Touchdown Tony can't stay healthy.
If Jim Washburn was still here and rotating the DTs in and out, we'd definitely need to find a fourth man to fill out the rotation. We don't know if Jerry Gray and Tracy Rocker will rotate the DTs like Wash did, but we do know we need another DT to join the three we just discussed. Since none of those three are run-stuffers, the new addition will need to improve the run defense, not to mention filling in as needed for the injury-prone Jones and Brown. I don't see any of the remaining DTs on the roster being capable of being that fourth man.
The others:
Jovan Haye was pretty highly regarded by some when he joined the Titans as a free agent in 2009. He has become a huge disappointment since then. The excuse the Titans gave for his poor play in 2009 was that he was too heavy and needed to slim down. Haye did that and played well briefly early last season before reverting to his previous level of play.
I don't buy the excuses. First, he didn't play well because he was heavier, then he didn't play well because he was lighter. I think he just can't play anymore. Guards have had their way with Haye for the last two years, pushing him around. Despite the injury problems with the other DTs, Haye was a healthy scratch for the final two games last year, which speaks volumes. The Titans opted instead to play Marques Douglas and Malcolm Sheppard. Haye is under contract for two more seasons but it will cost the Titans $3 million and $3.7 million to keep him. Needless to say, they won't.
Marques Douglas played the final six games for the Titans last year, with two starts. Douglas will be 34 years old this month and has been in the league for 12 years with five different teams. He's unsigned for 2011.
Malcolm Sheppard is signed for 2011. Formerly on the Texans' practice squad. he appeared for the Titans in the final three games last season. A DT who's not good enough to help the Texans, given all their problems at the position, doesn't inspire much confidence. He'll provide some competition in training camp, at least, but will probably be just a camp body.
The draft prospects:
Two defensive tackles are rated as top prospects in the upcoming NFL Draft and if either of them is available when Tennessee is on the clock at #8, the Titans should have to give them very strong consideration. Nick Fairley has been considered as high as #1 overall (Mel Kiper) and Marcell Dareus has also been projected as a top five pick by some.
Corey Liuget and Muhammed Wilkerson may be taken before the Titans draft in the second round, at #39 overall. If they aren't available, I also like Stephen Paea as a possible second-rounder. Marvin Austin, also regarded as a second-round pick, may not be considered by the Titans due to character concerns.
Later possibilities include Jarvis Jenkins, Jurrell Casey and Sione Fua in rounds three through five. I also like what I've heard about Terrell McClain. The guys who I'd like to see in two-tone blue will need to be stout against the run. We already have two good pass-rushing DTs, when healthy.
If you've seen any of these guys, I'd love to hear your opinions on them.
I intend to watch some tape on these DT prospects and we'll have more on these guys as we approach the draft.