We continue our preseason position by position analysis of the Titans with a look at the nickel backs. This year the nickel position will be quite different from previous years in several regards.
Vincent Fuller, a fourth-round draft pick in 2005, is no longer a Tennessee Titan. Fuller was the regular nickel back for the Titans from 2007-2010, before being replaced in midseason last year. Fuller spent this preseason and training camp exclusively at safety and did not survive the final roster cuts.
New defensive coordinator Jerry Gray is moving Cortland Finnegan from right corner to the slot in nickel situations, with Alterraun Verner taking Finnegan's spot outside at corner. Finnegan spent his rookie season at nickel, ahead of Fuller, before earning the starting right corner spot in 2007.
I like the move for several reasons, but especially because Finnegan's quickness and athleticism suit him better for the position in pass coverage than Verner. Finnegan is also more physical, a better tackler and a better blitzer.
This is a great example of Gray putting his players in positions where their strengths are.
Getting back to something I mentioned in the first paragraph of this piece, I wrote that the position would be different in several regards, and here's another reason. Besides the change in personnel, I also believe the Titans will utilize the nickel back differently than in years past. I fully expect to see Finnegan blitz frequently from the slot, something that Fuller and Verner seldom did under either Jim Schwartz or Chuck Cecil.
This was something that occurred regularly in training camp. Finnegan blitzed a lot in nickel and it became something that I became accustomed to seeing.
I don't know if that will be a good thing, but I fear it's something that will have to be done on occasion out of necessity. The front four will probably have a hard time generating a pass rush this year, especially if Derrick Morgan and Jason Jones can't get and remain healthy, so I expect to see blitzes not only from Finnegan, but also from SLB Akeem Ayers and FS Michael Griffin.
Depth behind Finnegan at nickel shouldn't be a problem. FS Jordan Babineaux has experience at the position and will be the #2, as he was in camp. Verner, who took over the position from Fuller last season, is the #3. The ability of those three to all play the nickel spot probably made the decision to cut Fuller a lot easier.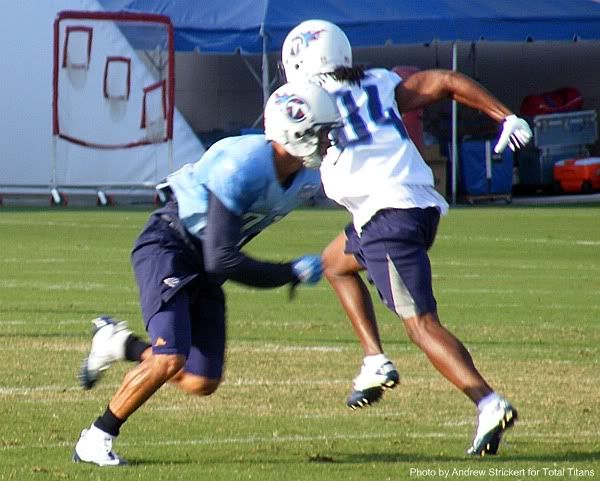 From training camp: Finnegan blitzes from the slot.