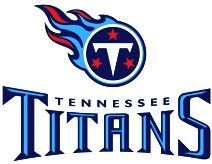 The 2007 schedule has been released and some writers are already making a big deal out of it, especially about the Titans playing two top passing teams in weeks two and three.
I guess I don't understand what the big deal is. With the rotating schedule, everyone has known for years who 14 of the 16 games would be against. We then knew who the other two opponents would be after the regular season concluded December 31. The only thing we didn't know until now was when the games would be played.
One thing I find encouraging is the two Monday night games. The Titans have regained some respect and credibility with those prime time appearances and you can credit Vince Young and the excitement he brings for that.
The schedule starts out with three tough games and it's easy to see a possible 0-3 start:
Sep 9 – at Jacksonville, noon, CBS
Sep 16 – vs Indianapolis, noon, CBS
Sep 24 – at New Orleans, 7:30 PM, ESPN
Sep 30 – Bye
The next five are very winnable games:
Oct 7 – vs Atlanta, noon, FOX
Oct 14 – at Tampa Bay, noon, CBS
Oct 21 – at Houston, noon, CBS
Oct 28 – vs Oakland, noon, CBS
Nov 4 – vs Carolina, noon, FOX
Three more toughies:
Nov 11 – vs Jacksonville, noon, CBS
Nov 19 – at Denver, 7:30 PM, ESPN
Nov 25 – at Cincinnati, noon, CBS
Another winnable game:
Dec 2 – vs Houston, noon, CBS
The Titans finish with some tough ones to close out the regular season:
Dec 9 – vs San Diego, noon, CBS
Dec 16 – at Kansas City, noon, CBS
Dec 23 – vs NY Jets, 3:15 PM, CBS
Dec 30 – at Indianapolis, noon, CBS
All the times above are Central Time.
With the flex schedule in place, the Titans have a chance for another prime time game late in the year for a Sunday night appearance on NBC. Assuming they're in playoff contention then.
At least we now know when we play the games.